Morning watch 2-10-13
By Rochester Falcon watcher MAK
It  was a very clear starlit night which made for some cold temperatures this morning. When I left the house it was 10 degrees fahrenheit(-12 celcius) and no wind to speak of. I was looking forward to some bright sunshine and blue skies for a change. I wasn't disappointed!
When I arrived on the Broad St. Bridge this morning at 6:55am there was no sign of Beauty so I sat there for a bit to see if she'd show up. I couldn't help but notice snow that was stuck on the backside of Mercury and the wings of the Times Square building.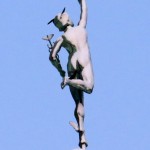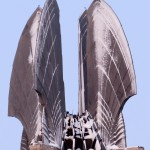 Click the pics for full version
So I took a cruise around downtown and as I made my way back from the east side westbound on Broad St. at Chestnut St. I spotted Beauty on the Bausch&Lomb building. She was on the upper northwest corner and she was eating!
I stayed with Beauty as she spent the next 45 minutes working on her meal. Towards the end she pooped to make room to finish it up and then she flew north.
She's been hanging out at the Kodak Office tower lately so I drove directly over there finding her on the northeast corner of the launchpad.
I first parked down on Mill St. in the Browns Race/High Falls district and when Beauty turned her back to me I went down to Brown St. We shared about half an hour together when I decided that she was going to be there for a while digesting her meal so I left  to check the Brighton Site. I landed there at around 8:50am finding Pigott on the east extension in the middle section of the top windows that face south-she was preening.
With his back facing out from the window ledge that he was perched on it took me a couple minutes to even notice BST with the bright sun washing out his presence to me. He was on the 2nd level of windows down, below where the roof top tree grows and at first he was sleeping. No big surprise there! lol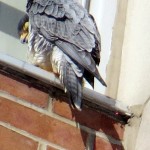 BST woke up a couple times to yell at a crow and to fly off and up to the top window ledge above where he just flew from.
Barbara came by for a couple minutes and left smiling after seeing both pefas. I left around 9:30am when it seemed apparent that Miss Pigott and BST were quite comfy in their spots. Returning downtown I went straight to the Kodak tower to see if the Beautyful one was still there-she was and in the same exact spot! I had 4 reasons to smile as I ended my watch -Beauty,Pigott,BST and sunshine!

I have included links below for a photo album and 6 videos-just click and view
http://share.shutterfly.com/action/welcome?sid=0AaN3DFm0ZMWrVfA
http://youtu.be/Y5Udopasrcg
http://youtu.be/2VpeRu28MUQ
http://youtu.be/yYNbn19Flwk
http://youtu.be/FNq8fuo18lQ
http://youtu.be/3UnrvRr1L60
http://youtu.be/7NaEP1AsC9Q