Sunday Falcon Watch - Morning/Afternoon - 2/10/13
By Rochester Falcon Watcher Carol P.
I didn't get out until about 10 am.  The sun was so bright and the sky was a stunning blue.  With over a foot of snow on the ground and clinging to all the trees.  it was going to be a gorgeous day.  Time to go find some Peregrine Falcons.  I first went over to KP to see if I could find a falcon there.  No luck finding a falcon, but I did find two Red-tail Hawks sitting in a tree next to each other and a very beautiful Northern Mockingbird.  He's visited with me and other watchers before.  Seems to like the company.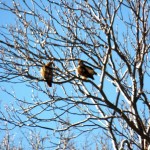 *
*
*
*
*
*
*
*
*
My next stop was downtown Rochester.  MAK reported that she left Beauty on the Kodak Tower on the NE corner of the launchpad, so that's where I headed first.  Beauty was no longer on the corner, she had moved over just a bit to the north side of the launchpad, close to the NE corner.  I only knew she was there, because her tail was sticking out just a bit.  I drove over to the north side which gave me a better view of Beauty.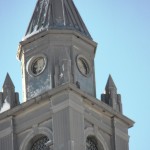 *
*
*
*
*
Beauty was actively looking around but didn't seem concerned about anything.  So I decided to head out to the BS location to see if I could find Pigott & BST.  After circling the building, I found BST on a windowsill on the SE side of the building below the tree ledge.  He was sitting in the sun, but a shadow was moving towards him.  As soon as he lost the sun, he immediately flew a short distance to a window on the south side of the east extension.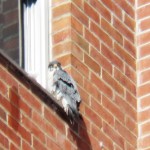 *
*
*
*
*
I parked in the parking lot on the east end of the building where I could keep an eye on BST.  I could not find Pigott anywhere on the building.
There were piles of snow surrounding the parking lot and something made me look to my left.  Have you ever just felt like you were being watched?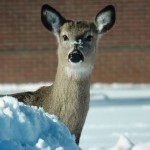 *
*
*
*
*
I was being watched by a beautiful deer with a snow smudge on her nose.  lol  She must have thought I was ok, because her and a friend came  out from behind the pile of snow and walked up towards the building to chew on a bush.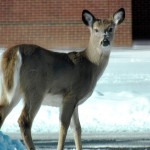 *
*
*
*
*
So now I was watching 2 deer and a falcon.  Life was good.  :-)  I settled in to watch a preening BST.  I love watching them preen.  When all of a sudden BST came to attention, looking my way.  His head started bobbing and I thought maybe Pigott was coming in.  BST took off heading my way.  He tucked in his wings and stooped over me towards the woods at the south end of the parking lot.  I looked over just in time to see him land in a tree right next to the parking lot.  I could hear small birds alarm calling from within the bushes below him.  Obviously BST was on the hunt and the little birds had dove for cover.  He only stayed a moment, but I was able to get a few pictures before he took off heading south.
*
*
*
*
I had to tweak the pictures a bit since the sun was so bright.  BST is such a handsome tiercel!
After awhile, he hadn't returned, so I circled the building hoping to find him.  Kathy O joined me and we waited together.  Kathy had come from downtown and had been watching Beauty on Mercury's moneybag.
We waited quite awhile, but BST did not return.  So we decided to check on Beauty.
From the Broad St Bridge, we could see that Beauty was still on Mercury's moneybag.
*
*
*
*
Just after Kathy said her goodbyes and headed home, Beauty took off and flew fast towards the west.  I saw a Red-tail Hawk for just a second before Beauty flew out of sight.  The buildings blocked my view, so I could not see if Beauty went after the hawk or not.  I waited and she did not return.  As usual on the weekends, something was going on at the Blue Cross Arena aka War Memorial.  The Broad St Bridge was filling up, so I decided to go over to the Andrews St Bridge to see if I could see Beauty from there.
She wasn't on the Frontier Communication Tower, the Kodak Tower or the north side of the OCSR.  I finally did find her on the SW corner of the Hyatt.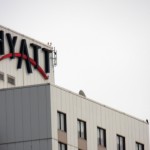 *
*
*
*
*
It was time for me to head home.  It was an enjoyable day to watch falcons and all the other critters of Rochester.  Tomorrow it will rain and all this snow will start to melt, probably causing flooding.  Anyone up to building an ark?  lol
Although I did not see Pigott today, MAK did report seeing her this morning and Dana saw her with BST at the BS location late this afternoon.  So all three current Rochester falcons were seen today.
I'll leave you with a couple pictures from my travels today.  Have a nice week everyone!
BE SURE TO CLICK ON ANY PICS YOU WOULD LIKE TO SEE IN A LARGER FORMAT.