Thursday Late Afternoon Falcon Watch - 2/21/13
By Rochester Falcon Watcher Carol P.
It was cold and snowy  during my late afternoon watch as it usually is lately.
It was a Peregrine Falcon Trifecta.
First, I found the LT Falcon (LTF).  I do believe, based on size, that this is a female.  The Peregrine Falcon females are called falcons and the males are called tiercels.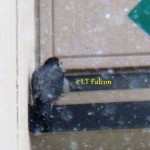 *
*
*
*
*
Next stop downtown Rochester.  I had no luck finding Beauty, so I headed out to the BS location where I found Pigott on the east end of the building below the tree ledge.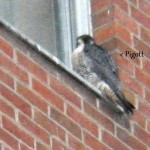 *
*
*
*
*
I didn't stay long at BS because I wanted to continue to look for Beauty downtown.  Finally I found her on top of the Xerox Bldg on the south side, 5 columns in from the SE corner.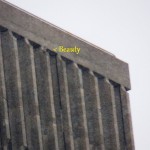 *
*
*
*
*
There wasn't much activity by the three falcons I saw tonight, just a little flying by LTF.    The light was fading and all three seemed to be settled in for the evening.  I was just glad to see them all and that all remained peaceful.
I'll leave you with a couple more pictures from the winter storm that hit Rochester back at the beginning of February.  Be sure to click on any pictures you would like to see larger.