Morning watch 2-22-13
By Rochester Falcon Watcher MAK
I started my watch with a temperature of 22 degrees (F) -6 (C) and overcast skies but pretty mellow otherwise. No snow or wind to deal with and that's a good thing for our fine feathered friends!
It took me a while (40 minutes) to find Beauty but I managed to spot her on the tallest building in downtown Rochester. She was on the 5th column south side of Xerox.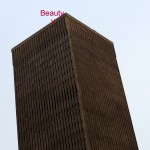 Beauty remained up there for the next 45 minutes just looking around for a potential meal. She flew off at 7:40am heading west and then north going behind Xerox where I lost sight of her.
She looks so miniscule way up there! I drove off to find her and I didn't have to go far as Beauty was on the money bag hand of Mercury as I made my way down Broad St. to the bridge. I barely had time to get out of my car and take a couple pics before she was off again flying north.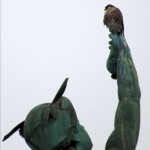 Be sure to click the pics for a full version
So off I went again chasing the Beautyful one until I found her on the top ibeam northwest side of OCSR.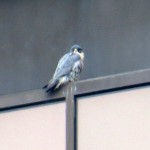 I parked across from the Rochester Plaza Hotel on State St. and spent nearly an hour watching Beauty as she preened and looked over the area below her. She left at 8:50am flying east over the river so I did a quick check at the Lake Tower (LT) site but there was no falcon to be found.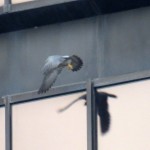 On my way back thru I found Beauty on the south corner top ibeam of OCSR. She was scrunched down facing south as I parked down in the hole (Aqueduct St.) to observe her for a few minutes.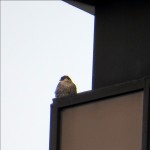 I left Beauty to go check on the Brighton site (BS) where I spotted Pigott on the northwest corner as I approached the site just before 9:30am.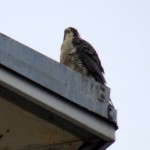 I watched her survey the territory for 15 minutes and the she took off flying south.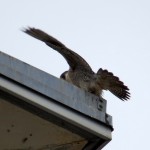 I gave her 15 minutes and when she didn't return I left for Highland Park where several of our local watchers has seen an Eastern Screech Owl. It was first found by Lisa McKeown and after our New Years toast some people went to check it out with her. Pretty much everyday since, I have gone there after checking BS to see this elusive owl. Well finally today it was there when I checked, sleeping soundly and I was elated for I've never seen one in the wild.
I returned to downtown around 10:30am and noticed on my way thru that Beauty was still on the south corner of OCSR. Subsequently I checked both the LT and Kodak Park sites without finding a PEFA at either place so I ended my watch at 11:00am. I certainly had reason to smile today after seeing Beauty,Pigott and my first Eastern Screech Owl! 

Click the links below to view more pics and videos from my watch
http://share.shutterfly.com/action/welcome?sid=0AaN3DFm0ZMWrWgA
http://youtu.be/8Gg8JvXGfBM
http://youtu.be/X1i8DCFa5uQ
http://youtu.be/q8vPtC0VPHQ
http://youtu.be/s1YTSEyptSk
http://youtu.be/L6T1HefOdZ4