Morning watch 2-23-13
By Rochester Falcon Watcher MAK
It was a balmy 33 degrees (F) 1 (C) when I began my watch this morning with the tiniest of snowflakes falling when I arrived downtown. While I was out there was a mix of rain,sleet and snow in varying intensity and dark overcast conditions.
I haven't spent much time on the Broad St. Bridge lately as Beauty has been hanging out in the north and east parts of her territory. Today was no different as I found her eating on the northeast corner of Bausch&Lomb at 6:45am. I parked on Broad St. right between Xerox and Midtown.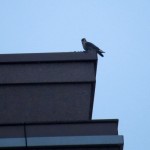 I shared space with Beauty for the next 45 minutes as she finished her meal and took off flying northwest. She had a nicely filled crop when she departed.
Beautys pattern has been to go to the northwest side of OCSR to digest her meals and that's exactly where I found her on the top ibeam.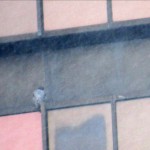 I knew she wasn't going anywhere so I took a ride a mile up the road to the Lake Tower (LT) apartment only to find it lined with pigeons and no mystery falcon. I drove to the Brighton location next and found 7 Wild Turkeys crossing the road in front of me. A couple of them flew in from the woods and a male turkey was strutting his stuff for one female in particular.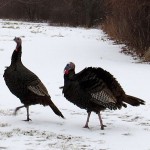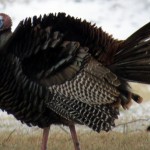 Remember you must click the pics to see a full version
As I was watching them I noticed a falcon in the PEFA tree at the back of the property. It was Miss Pigott and she was in hunt mode turning her head to and fro up and down making my neck hurt just watching her cranking hers.
It started to sleet as Pigott searched the area for a meal. I could hear a Blue Jay alarm calling and then 3 crows flew in and surrounded Pigott. One in particular was really harassing her flying at her and landing real close on a neighboring branch. Then the 2nd crow came over with the 3rd crow just watching from afar.
They gave up after 15 minutes as Miss Pigott stood her ground. 10 minutes later she flew north out of sight quickly. It sure was a fast hour and a half I spent with Pigott!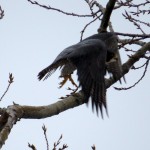 Right after Pigott left 2 Blue Jays,a Mockingbird and a Downy Woodpecker flew out from the trees. This was their lucky day as the crows distracted Pigott and spoiled her breakfast plans. Pigott didn't return so I made my way back downtown to find that Beauty had held her ground too as she was still on the top ibeam northwest side of OCSR. The rain,snow and sleet mix had pretty much stopped by this time. I left the Beautyful one to check LT but there was no falcon there, so I drove to Kodak Park and found KathyO there but no falcon. Dana drove up a couple minutes later and we all chatted before parting ways. I ended my watch at 10:44am with a big old smile on my face for having had such a fun time!

Click on the links below for more pics and videos
http://share.shutterfly.com/action/welcome?sid=0AaN3DFm0ZMWrWog
http://youtu.be/vtzv2yRlx6s
http://youtu.be/MYbxdvnzsAk
http://youtu.be/Agacfj7FLbI
http://youtu.be/gX0LK64zByU
http://youtu.be/6iiyqj_QF08
http://youtu.be/vVh7CjtRzbY
http://youtu.be/eLvyIlk_WLQ
http://youtu.be/6lwpvm9oduM
http://youtu.be/nAx_i4qQ_Rk