Morning/afternoon watch 3-18-13
By Rochester Falcon Watcher MAK
It was 19 degrees (F)  -7 (C) when I left for my watch this morning with no precipitation but plenty of cold biting wind making the wind chill near 0 (F) -18 (C). This would play a big factor in my ability to take clear pics today-not only making the camera very cold and not focusing well but making me shake from the cold. I'm very disappointed I don't have more pics for you. I spent a lot of the watch just  watching with my binocs, without my camera even in my hands.
I got an earlier than usual start today because of the events from last nite with the male that visited Beauty at the nest box. I arrived on the Broad St. Bridge(BSB) at 6:40am and after a look around as well as I could in the dark i went over to the east side. I found Beauty in the same spot that I left her last nite on the southeast corner of HSBC.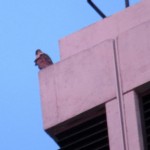 She stayed up there for the next 15 minutes then stooped down the south side where I couldn't see her due to my vantage point on Broad St. (I mistakenly tweeted the east side). I drove down to the BSB and after a few minutes I saw Beauty flying with a male(smaller) falcon on the west side between the jail and Times Square building(TSB). Suddenly they got together and touched talons then flew across the river to my south going east and I lost them when they went behind Xerox. When they resurfaced the male swooped on Beauty twice above Xerox. Then they were off to the races flying very fast back and forth across the river,up and down the east and west sides of the city-basically covering every corner of the city skyline. Things changed at this point-now Beauty was dive bombing the male giving just as good as she got. This is different than last year when Dot.Ca was after her-she didn't retaliate then she just dodged his advances. The male was  more the aggressor for sure and the swooping and dive bombing turned into full blown stoops. At 7:30am Beauty flew to the jail tower and the male flew north out of sight.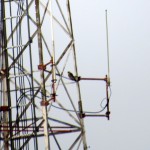 About 10 minutes later I spotted the male near OCSR and while I was watching him Beauty left the jail tower and then i couldn't see either one as my eyes kept tearing up from the cold. 10 minutes later I spotted one flying south of Xerox. The sun was faint behind a cloudy sky but still bright enough to give problems seeing and taking pics. A couple minutes later I had Beauty on the jail tower and the male went to the northwest corner of the Chase tower.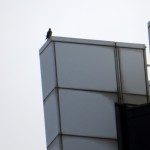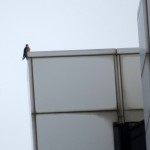 These are the only pics I got of the male that were clear enough to post.
I had gone up to the roof of the South Ave. garage to get closer to him and could see that he had a full crop and the front of him looked a bit dark to me not real bright white. I thought after all that flying that they would rest for a bit but 5 minutes later the male took off to the west above the river where Beauty met up with him and then they went to the west side where I lost them behind the jail. 5 minutes later the male returned to Chase for a moment then flew east behind it where I lost him. Couldn't find Beauty either at this time. Less than 10 minutes later they appeared over Xerox and now the intensity had picked up with the speed and aggression toward each other. They stooped and dived on each other from one end of the river to the other before vanishing to the southeast. I next saw them near OCSR as they made their way farther away from me and then what I'm calling the super stoop occurred. They were high above the Federal building on Andrews St. when first Beauty followed by the male went into a supersonic stoop down toward the gorge at high falls neither one coming back up into view. Around 8:30am Beauty touched down on the southwest corner of Bausch&Lomb(B&L) then flew around Xerox a couple times and ended up landing on the west side upper roof dead center of B&L.
She seemed relaxed as she did some preening and watching over her territory. 10 minutes later she flew over to the northwest corner and started eating cached food.
After she was finished Bea uty went back to the middle of that upper roof  again. I left Beauty half hour later at 10:00am to go over to the Brighton Site(BS) as KathyO was there and wasn't sure if  she had Pigott on a southwest window ledge.  I was able to confirm that it was indeed Miss Pigott as she did some preening.
I stayed 10 minutes and left to get back downtown. Beauty was gone from B&L so I went searching and as I made my way back  from the east side I spotted her on the top ibeam northeast side of  OCSR from the Andrews St. bridge. I went to State St. across from the Rochester Plaza Hotel for closer viewing.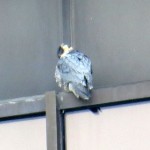 She watched the male as he passed above her  and then she was off fast flying north real low like treetop low.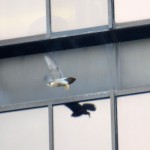 KathyO had made her way downtown from BS so I went north as well to check  the Lake Tower and Kodak Park sites. Nothing was seen at either site and as I was on my way back to downtown Kathy texted that she had 2. When I arrived on the BSB Barbara was there with her and we watched the Beautyful one take off from the jail tower and the male fly off the southeast corner of Chase and start to do battle again over the river.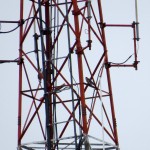 They made their way down river flying above and around OCSR making their way to the west side and eventually Kodak Office only to vanish in the white sky. Kathy left for the South Ave. garage and then Pat came by for a few minutes. She and Barbara left and I joined Kathy. Beauty was on the northwest corner of Chase when I got up there. At 1:00pm Beauty flew north fast and then we saw 3 near the K-tower. Beauty was being swooped on by 1 and the other just hung back not getting involved. We lost them behind OCSR and for the next 2 hours it was falconless for us.
Kathy drove over to the Andrews St. bridge to check the north side of OCSR as I remained on the garage roof. Kathy ended up finding a falcon on the northwest corner of Chase and I confirmed that it was Beauty. Joyce saw her too from wherever she was watching. Kathy rejoined me on the garage and at 3:06pm Beauty left Chase flying north.  5 minutes later we could see 2 falcons flying near OCSR and 5 minutes later there were 3 flying between the jail and Times Square building. They made their way over the river near OCSR. It looked to us like Beauty and 2 smaller falcons with one of them stooping on her as they came over by us. All 3 went behind the Hyatt where we lost them. That would be where I ended my watch as I had an appointment.
My watch was 9 hours long but honestly with all the action the time flew by.  A lot of the time I was frozen just watching what was taking place before me and not even thinking about using my camera. I have to say that even though it was a stressful day of seeing our Beauty do battle she made me smile as she survived the onslaught unscathed and still in control of her territory!

I have a few videos from the day of which I have provided the links for below
http://youtu.be/3gRhMJrmoUA
http://youtu.be/UkcZ01rKHBM
http://youtu.be/5c_aQygW5JM
http://youtu.be/zlRnahZSfy8
http://youtu.be/HOEg9DWinvg