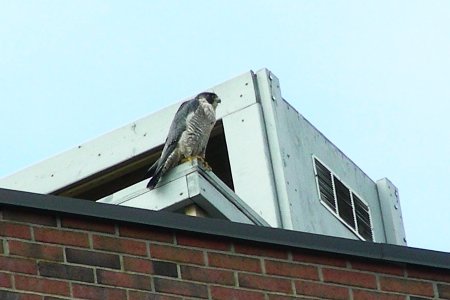 Photos courtesy of Mark Nash, Canadian Peregrine Foundation
We've received some happy news from Mark Nash and our friends at the Canadian Peregrine Foundation– Linn is back!!!
You may recall that Linn was spotted there at the beginning of the year, but then she left for parts unknown. She's back now, and she's brought a friend, as Mark Nash reports:
Over the past four plus weeks, we have been getting regular sightings of a pair of peregrines that have been hanging around the Bell hack site at Pharmacy & Eglinton. Both birds (a male and female) have been observed coming in and out of the hack box, as well as roosting, sleeping and feeding regularly on various elevations on the Bell building. This morning we were able to confirm Bruce Massey's observation of the female's band number that he [observed] this past weekend (November 8th & 9th 2008) – Black 91 over Green V.

She has been identified as Linn from Rochester – produced at the Kodak nest site in 2007!!

Her male friend also [wears] a Black over Green colour marker band (but we have not been able to get his numbers yet). BUT his USFWS band appears to be a purple/mauve colour. While it may be a coloured tape, it does not appear to be case. We will continue to monitor the site in the hopes that we might get an ID on this guy.
Mark sent along some pictures of Linn the male who accompanied her, presented here for your viewing pleasure.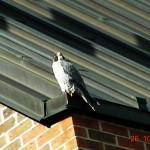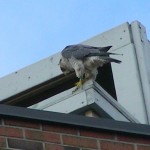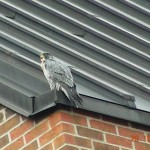 What a beauty she is in her adult plumage! We're thrilled to know that Linn is back. If this male is her mate, they've chosen an excellent spot to nest and raise young in 2009! Our gratitude and appreciation go to Bruce Massey, Mark Nash, and all the great folks at the Canadian Peregrine Foundation for keeping an eye out for Linn, and for welcoming yet another Rochester peregrine to grace the skies of Canada!
-Jess