Morning watch 10-28-13
By Rochester Falcon Watcher MAK
Cold start today at 37 (F) 3 (C) with mostly cloudy skies
So it looks like we have a new routine in the morning-we are hanging around the Times Square area instead of the east side the past few days. We've had a couple visits to the nest box and some pair bonding too, making me think Dot.Ca (DC) is getting ready to migrate. We shall see! Anyway, I found Beauty under the northeast wing of the Times Square building for the 3rd or 4th day in a row to start my watch at 7:30am.
I was parked in the hole next to He's Chinese watching Beauty when cam watcher Annette tweeted there was a falcon on the Mercury money bag (MMB). I turned around to see DC up there but not for long as he flew off after a few minutes and went under the northwest wing of TSB across from Beauty with his back to both of us. He was in hunt mode.
2 minutes after arriving DC flew off to the north and I followed right behind. As I was stopped at Fitzhugh and Main St. for a red light I noticed city workers putting Christmas lights up on the trees along Main St.
I continued on down Fitzhugh St. coming to rest in front of the Sister Cities parking garage where I could see DC on the northeast cube of the Frontier Communications tower. Wait-did I just say that!? That cube is Beautys' perching spot! I took a couple pics to be sure that it was him and then I whipped back to TSB to see if Beauty was still there and she was.
From there I went to Brighton and once again Pigott was not there. I think this is like the 5th day in a row I haven't seen her there in the morning but she has been seen in the afternoon and evenings by other watchers. I exited thru the back service road so I could check the PEFA tree and cell tower. There was a raptor on the cell tower but it was a Red-tail Hawk.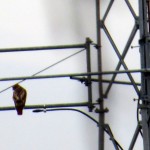 Returning to downtown I found the Beautyful one still under the northeast wing of TSB. I took one pic to be sure it was her and then took a drive around to look for DC. As I drove down Pleasant St. I spotted this painting on a building. We have some fine artists here in Rochester sharing their talents to make the urban jungle more appealing.
I didn't find DC and ended my watch at 9:15am as I had a busy day ahead of me. Keep smiling! 🙂
Click on the links below to view a couple videos from my watch