Morning watch 11-30-13
By Rochester Falcon Watcher MAK
Felt more like January than November when I stepped out the door this morning. When I got downtown the bank clock on State St. said it was 16 degrees (F)  -9 (C). It was clear and sunny to start with clouds moving in toward the end of my watch
I was a little later than usual to get downtown and when I did arrive at7:14am Dot.Ca (DC) was on the top ibeam south corner of OCSR. He was looking northwest and as I tweeted my findings DC left the building.
So I went in search of and found Beauty 20 minutes later on the Kodak Office (KO) launchpad. She was perched on the northeast corner and she was looking for breakfast as I pulled over on State St. by Platt St..
I moved to Mill St. to be a little closer.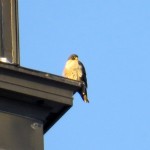 The Beautyful one was watching some pigeons that were trying to hide from her lower on the building. She flew off and flew back and forth trying to flush them out to no avail.
Beauty returned to the launchpad and a few minutes later was off again circling the building many times and eventually disappearing behind the building to the west out of sight and didn't return.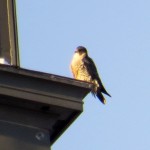 I circled the building myself looking for her with no luck so I left for Brighton. I arrived there about 8:45am but after circling the premises I could find no falcons. I waited half hour or so to no avail-nobody showed up so I went back downtown. After a search I ended up back at KO where I found DC this time on the northeast corner of the launchpad.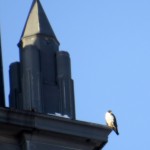 DC turned around showing me his back so I went down to Broad St. by State St. to watch him and a few minutes later he flew off going northwest and didn't return.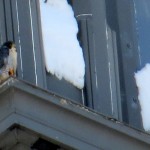 I checked all sides of KO and came up empty, then I took a look around downtown with no sightings. I decided to end my watch at 9:40am. Keep smiling people! 🙂
Click on the links below to view a couple videos