Morning watch 2-25-14
By Rochester Falcon Watcher MAK
Back to frozen tundra as the temperature was 16 degrees (F) -9 (C) and with the wind chill making it feel like 4-light snow fell during my watch and it was overcast
From the Broad St. bridge (BSB) I found Beauty quite easily this morning as she was on the top ibeam southeast side of OCSR at 7am. Idrove over to the Radisson Hotel by Main St. to be closer.
She stooped down in the river around 7:30am in between the Main and Broad St. bridges out of view-then resurfaced empty -taloned and flew up into the OCSR elevator shaft coming to rest on the north side ledge. It was hard to see her thru the snow.
I guess this was her signal for me to go find Dot.Ca (DC) so I left for the Brighton Site (BS) after a look around downtown. When I arrived at BS  just after 8am I spotted DC on the southeast extension on the corner by the roof top tree. Pigott was nowhere to be found.
DC flew off to the south a few minutes later and didn't return so I headed back downtown since that's the direction he was flying. Thanks to Donna who tweeted that Beauty was at the nest so I knew right where to look first. As I approached from Exchange St. I could see Beauty by the main cam-she had her back to me so I went to the hole to get a better angle on her.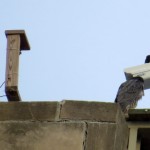 Remember to click on my pics to see the full version
As I got to Aqueduct St. at Bank Place by the southeast corner of the Philipone building I noticed the white of DC on the top ibeam of OCSR near the south corner. The Beautyful one left the nest area and joined DC on OCSR a bit further down on the ibeam.
They both were closing their eyes on and off-I caught a pic of Beauty dozing and I captured video of  DC getting some shut eye as well.
It was time to get going so I ended my watch at 8:45am leaving our downtown love birds making eyes at each other in between naps. Smiling-you bet I was!  🙂
Click on the links below to view todays videos