Friday Afternoon/Evening Falcon Watch – 3/28/14 – Hoping it Was Pigott We Saw at BS Tonight
By Rochester Falcon Watcher Carol P.
When I left work today, I checked out the KP smoke stacks from my parking lot.  I was happy to see a falcon on the east side of the catwalk of the east stack.  It started to rain really hard while I was there.
*
*
*
*
While I was watching the KP  Falcon, two Kestrels were hanging out on a nearby building.  They copulated.  Hmmmm, maybe they'll be nesting nearby.  🙂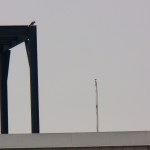 *
*
*
*
*
I had to be somewhere at 5:00 pm.  I joined Kathy O at the BS location at approximately 7:00 pm.  We have been concerned that no one had seen Pigott for a few days.  Dana and Lisa joined us yesterday.  Many of the Rochester Watchers have been looking for her.
Just before I arrived, Kathy O was pretty sure she had seen two falcons flying around the building.  It was very windy and lightly raining on and off.  Kathy reported that one of the falcons headed north and when I arrived, she was looking for the 2nd falcon.  As I pulled in, I could see a falcon eating up on the north east corner of the east extension.  The lighting was not very good, so I wasn't able to get a good picture.
*
*
*
*
Kathy and I are sure that this was not DC and that it was a female.  We were unable to get a positive ID.  I do believe that it was probably Pigott, but can't be 100% sure.
When she was done eating, she took off and hovered over the building.  We quickly lost sight of her, the wind pushed her to even greater speeds.  After circling the building a couple times, Kathy and I settled on the cubby side until it got dark.  We left when it got too dark to see.
I'm sure the Rochester Watchers will be out over the weekend checking on all the Rochester Falcons.  Hopefully we will be able to positively ID this falcon as Pigott.  Goodnight everyone!