Morning watch 4-28-14
By Rochester Falcon Watcher MAK
It was a chilly 31 degree (F)  -1 (C)  start when I left with a beautiful sunrise in progress for my first morning at Seneca Towers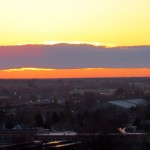 Make sure to click on my pics to make them larger
I took some pics last night of the male that hangs out on my building-he was on the southwest corner and I was on the west side balcony right across from him.
Who would have ever thought I'd have falcons for neighbors!?
Any way, when I arrived downtown I found Beauty on the base of Mercury-she and Dot.Ca (DC) had just switched at the nest box before I arrived at 6:20am.
She did some preening, head scratching and stretching for close to an hour as I watched her from the hole. And a lengthy poop!
At 7:07am the Beautyful one flew off and over to cam 1.
About 10 minutes later Beauty flew out and made a u-turn back to the nest box to give DC the boot from laying on their eggs.
A minute or 2 later DC came out with wings stretched all the way out and up to the northeast wing ledge on the Times Square building.
I watched DC with his back to me as he preened until 8am when I ended my watch. It was a short  but sweet watch which made me smile as I shared space with both our beloved downtown Rochester Peregrine Falcons! 🙂