Morning watch 11-30-14
By Rochester Falcon Watcher MAK
It was an overcast and warm morning in Rochester with a temperature of 49 (F) 9 (C) at 7am
Click on the pics to see the full version
I had to search for a falcon this morning-taking in the sights on Main St.as I went along.
When I finally found a falcon it was off to the races as there were no dull moments in todays watch. Beauty was hunting on the wing above Xerox and the surrounding area as I parked on Court St. across from the Court St. bridge. A few minutes later she flew to Times Square (TSB) landing under the northeast wing. I parked down in the hole parking lot to observe her from there.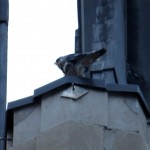 Beauty left within a minute of my arrival and headed back across the river hunt from above Xerox. She rode the wind currents up there a lot as she hovered above watching for a meal to turn up.
I was now parked on the Court St. bridge where I had a much better view of things to come. The Beautyful one made her first stoop toward Cornhill unsuccessfully as I jumped out my car to see her fly thru the Frederick Douglas/Susan B. Anthony bridge (simply put, I call it the route 490 arch bridge) and come out by Cornhill landing on the other side. I checked out the river while I waited for her return. And she did-showing up over South Ave. near the Blue Cross/Blue Shield (BCBS) building before flying above Xerox again.
Stoop number 2, some 5 minutes later was a carbon copy of the first one. More flying and hovering above Xerox then she made her 3rd stoop straight down toward South Ave. by BCBS around 8am and returning to circle above Bausch & Lomb (B&L) before going back over to the air space above Xerox. Beauty no sooner got back when a 4th attempt at stooping for breakfast scared up 2 pigeons by Cornhill but they got away and back above Xerox she went.
By this time Larry was over at the Strong Museum of Play parking lot watching from the south as Dot.Ca (DC) joined her in flight. They split up after some fine flying-I lost track of Beauty as I followed DC-he went to Times Square and landed under the northeast wing. I drove down to the hole to watch and Larry joined me a few minutes later with his dog Harold.
Larry left to watch Beauty from the Court St. bridge and DC flew off at 8:33am and went up to the southeast wing ring of TSB. I first parked on Exchange Blvd. by the main entrance to the Blue Cross Arena as DC did a little preening and rousing.
I then decided it would be a better angle parked over on Broad St. next to the Gannett newspaper/Democrat and Chronicle building right below TSB.
I had just gotten started taping DC when he flew south very fast. I went up on the Broad St. bridge to have a look around and spotted him on the top arm of the jail tower. Larry tweeted that he too, saw him there from the Court St. bridge.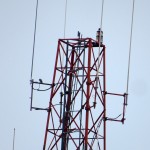 I drove over to Troup St. which is the best spot to watch our falcons when they are on the jail communications tower but when I arrived DC was gone. I then joined Larry on the Court St. bridge where we watched some nice tandem flying by Beauty and DC above Xerox and B&L.
Suddenly around 9am DC went into a stoop, disappearing behind the Rundell Library and shooting out from the river side above the Broad St. bridge crossing the river and scattering a couple small birds by the southeast corner of the Blue Cross Arena right in front of us. There were big smiles on our faces!! With no falcons in sight Larry and Harold left for home and so did I. I didn't find Beauty or DC on my way out of downtown nor did I have any sightings at Seneca Towers when I got home. Today, I think I was smiling the entire watch!  🙂
Check out the links below to see todays videos featuring Beauty on the wing in 3 of them