Morning watch 12-30-14
By Rochester Falcon Watcher MAK
It was snowing great big flakes when I walked out of Seneca Towers this morning-as fast as I brushed the snow off my car it got covered again. The temperature held steady throughout my watch at 23 (F) -5 (C) and right around 9am it stopped snowing and the sun came out with some blue sky
Click on the pics to see the full version
When I arrived downtown I knew it was going to be tough to find Beauty and Dot.ca (DC) because of how hard the snow was coming down. I surely wasn't going to find them on buildings from a distance and if anybody was up in the OCSR elevator shaft I couldn't see them. So I took my time driving around and as the snow started letting up I checked the elevator shaft again from Bragdon Place by the Radisson Hotel. Nobody up there, but as I glanced over at the Kodak Office tower I could see a falcon on the southwest corner of the launchpad.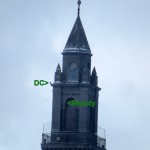 From there I couldn't see a second one on the south side arch, so when I got over there I was pleasantly surprised to find both Beauty and DC. She was on her arch and he was above on the launchpad.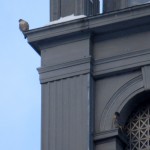 It was at this time the snow stopped and things started to brighten up-they both did a little preening and DC stretched some before flying off while I was tweeting, so I missed it.
No worries tho because he returned at 9:37am to land on the southeast corner of the launchpad, then proceeded to walk over to the southwest corner as the Beautyful one watched from below. DC then took off and headed north before returning once again to the same corner he had just vacated.

I thought they would stay this way soaking up the sun and so I signed off to end my watch at 9:46am but just as I was to pull away the busy one DC, flew off and came to rest on the southwest corner of the playpen.
Now I officially ended my watch and drove off smiling after a snowy morning watch turned bright and sunny! 🙂
Click on the links below to see todays videos