Falcon Watch Reports – Friday (4/24/15) & Saturday (4/25/15)
By Rochester Falcon Watcher Carol P.
The falcon watches are quiet now and that's a good thing.  Incubation and eating are top priorities.  So when the watchers are downtown, they usually see one falcon, while the other is inside the nest box covering the eggs.
Friday, April 24, 2015
After work, I arrived downtown to find Dot.ca on the Wilder Bldg green strip.  It was Beauty's turn on the eggs.  I stayed for about an hour and a half, and Dot.ca did not move from the Wilder Bldg while I was there.
Saturday, April 25, 2015
Saturday morning I met Dana across the river from Seneca Towers.  We spent a little over an hour watching the area and did not see any falcon activity.  The good news is that MAK reported seeing a falcon fly by her window at Seneca Towers today (Sunday).  So, they are still nearby.
After leaving Seneca Towers, I headed downtown and found Beauty eating on the base of the Mercury statue.  Pigeon was on the menu that day.
After finishing eating, Beauty took off and cached the leftovers on a small ledge on the southeast corner of the Times Square Bldg.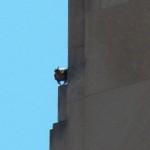 After caching her food, Beauty flew back to the Mercury statue, landing on the foot.
The moon was rising behind her, so I had to get a couple Beauty and the Moon shots.   lol
After awhile, Beauty flew up to the corner of the nest box platform.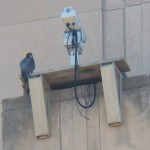 She stayed there for quite awhile before moving into the nest box to take her turn incubating the eggs.  Dot.ca flew out of the nest box to the base of the Mercury statue where Beauty had been eating.  There was only a little bit left up there for him to eat. After that, he flew over to the OCSR, landing on the top IBeam at the south corner.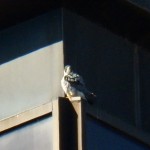 When I ended my watch, Beauty was in the nest box and Dot.ca was on OCSR.  Many thanks to all that helped to let me know who was in the nest box during my watches.  Sometimes it's hard to ID the falcons, especially when they have their backs to us.
I was not able to get out today (Sunday), but I did keep tabs on the Rfalconcam streaming video.  All was quiet and peaceful, with Beauty and Dot.ca taking turns incubating their eggs.