Morning/afternoon watch 11-20-11
By Rochester falcon watcher MAK
CarolP picked me up around 9:00am and we headed for downtown. We had quite a time trying to find Beauty. While on the Broad St. bridge I checked the river and found one lonely duck floating on the north side and two on the south side and that was it for shore birds.
We then went to the pedestrian bridge at high falls and surprisingly there was no wildlife of any kind to be found there. We thought it very odd. Anyway, that's Skyes' building below on the far right which Genesee Brewery wants to take down.
Carol wanted to show me a nestbox that was put on top of a school off of St. Paul Blvd, so that's where we went next. After finding our way around with lots of one way streets and ghetto conditions we found a stone parking lot to get a good view of it. As soon as Carol got out of the car she spotted a falcon gliding above. By the time I got out of the car I was only able to get one pic of it. And then I took pics of the nestbox.
We assumed it was the Beautyful one as we watched her fly toward downtown. We went to the Broad St. bridge straight away but never found her again. Joyce and Brian pulled up behind us and I made the switch to go with them for an afternoon watch because Carol had to get home. We made our way over to the old Rochester Psyche Center and found a falcon and judging by size a female on the southeast corner by the tree that grows on the roof.
Suddenly she flew off to the south and went after a pigeon. She missed and came back flying right above us putting on a little display before landing on the roof.
It was time to go look for Snowy Owls and we started at the Shumway Marina. We found no owls but we saw a bunch of Snow Buntings in the grass. They sure did blend in really well. It was my first sighting of these pretty little birds.
Next stop was the Summerville pier where Brian checked  for evidence that Snowy Owls have been there. He found a pellet with a bone sticking out of it and many other pellets and a gull head that was ripped off the body.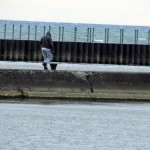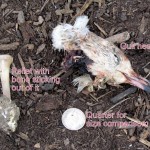 Make sure to click on pic to see full version
We made our way over to the Charlotte pier which is on the opposite side of the Genesee River from the Summerville pier. Joyce,Brian and the dogs went for a walk to the beach and back. I waited in the car cuz I didn't  think I could walk that distance yet. When they got back I spotted a Coopers Hawk on the ground. It was trying to spook a sparrow out of the bushes for a tasty treat!
It flew up into a nearby tree and when the sparrow flew out the Coop flew after it and out of view. We ended our watch at KP without seeing her loveliness Unity but CarolP had seen her earlier so all Rochester falcons were safe and sound for today.   I wish to thank Carol and Joyce for including me on their watches today and for sending me home smiling!  🙂
Click to view album:
| | |
| --- | --- |
| | Morning/afternoon watch |