Thanksgiving morning watch 11-24-11
By Rochester falcon watcher MAK
I started the morning by scraping ice off the windshield and as I looked at the city from route 490 I could see a haze that almost looked like frost surrounding the buildings. A cool sight as I made my way downtown. As I came upon Washington Square Park there were a few crows left in the trees that hadn't left for their daily ventures.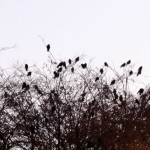 I found Beauty on the east side of  HSBC but she took off before I could stop. As I checked the Kodak office tower I passed by the pedestrian bridge at High Falls and found it to be frost covered as all the bridges and overpasses were this morning.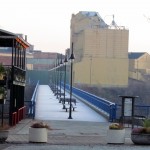 I spent the next half hour looking for her to no avail so I decided to try my luck at KP. It was a very bright and sunny start to the morning perfect for taking pics but Unity was no where to be seen. I waited for this gorgeous gal to show up about 20 minutes and then headed back downtown. I drove around quite a bit looking for the Beautyful one and finally found her on the platform railing of the FCT on the east side.
After a few minutes she moved up to the bottom arm north side on the FCT.
Beauty seemed to be watching something below in between scratching herself with her big yellow feet! All of a sudden she lifted her tail feathers and plop out came a white stream of poop! LOL
She soon flew off to the north and I had to leave also.  I'm very thankful for my feathered falcon friends,my family and all my friends both near and far! All of you keep me smiling! 🙂