Morning Falcon Watch 10-25-15
By Rochester Falcon Watcher MAK
The wind was howling and the sky was gray, spraying a fine misty rain at times on this fall morning with a temperature of  53 (F) 12 (C)
The Seneca Towers Peregrines have been scarce the last few days and I'm hoping all is well since that new pair has been hanging out at Hawkeye just half a mile from here. I haven't seen a falcon there in the last few days either. This morning after 2 days of seeing nobody here, I spotted one on the northwest corner railing from below in my parking lot here at Seneca Towers. It soon turned around and flew east-there was no way of telling who it was.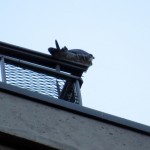 I proceeded to check the rest of the building to no avail and then headed downtown past Hawkeye where I could see no falcons. After one trip around I found Beauty and Dot.ca (DC) on the southeast side top I-beam of OCSR from the Broad St. bridge. I drove over to the Radisson Hotel by Main St. for a closer look. Beauty was feaking so I assumed she had just finished eating as DC had his back facing out.
The Beautyful one turned around a few times and did some more feaking in the process then settled down as DC looked over his shoulder. I couldn't see his crop so I couldn't say whether he had eaten or not but all was quiet when I left them at 8:15am to go check the Brighton site (BS) where an unidentifyed female has been seen this past week.
On my way over Larry had tweeted that he and his dog Harold were checking at BS. When I arrived I found them as well as the "Core Four" as Joyce refers to them, which includes Lisa, Dana,KathyO and CarolP. They were checking the site before leaving on a road trip to Canada. There was no falcon to be found at this location today. We all headed out and I went to the Medley Center. All I found there, was a big pile of bread in the north side parking lot being devoured by crows, pigeons and gulls. At one point a crow squawked and carried on so much that the rest of the crowd left, but they soon came back for more.
I headed for home after waiting there half hour or so but again there were no falcons seen at Seneca Towers. I ended my watch just before the 10 o'clock hour smiling for I had seen one more falcon today than I had yesterday. 🙂
Click on the links below to view today's videos