Morning watch 11-27-11
By Rochester falcon watcher MAK
It's been a busy weekend for me and I'm pretty much out of gas but I loved every minute of having a vehicle again. I took full advantage today by checking everywhere except the old psyche center. Starting DT Beauty eluded me for the most part and the lil birdies on Mercury pretty much tell the story!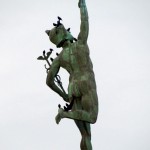 More than an hour into my watch I finally spotted the Beautyful one soaring above the Xerox tower. She quickly disappeared behind buildings to the north but a minute later she appeared flying to the south until I could no longer see her. Not finding her again I went to KP and didn't see Unity anywhere but I saw a white tailed buck again like the other day only this time I got pics.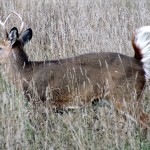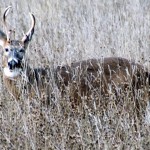 Click on pics for large version
Next stop was Charlotte to see if that female Snowy Owl was around. No such luck but there's always ducks and gulls to entertain.
On my way once again I stopped at Russel Station and found some ducks.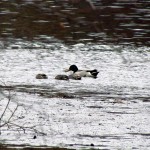 On Round pond looking from Dewey Ave. I spotted a whole lot of Tundra Swans.
Moving along from there I went to Braddocks Bay and oh no found the restroom locked up for the year! And the only bird I saw other than some crows was a carved Eagle.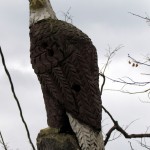 Well, I was getting a little perplexed by this time and decided to check out Shumway Marine for the Snowy Owl on my way to Seabreeze. The only sighting there was a blocked off road and a fake owl on a dock! lol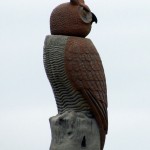 I whipped down to Summerville to check quick and found this gull by the river.
Arriving at Seabreeze the only wildlife out of the norm was 2 geese on the north shore of  Irondequoit Bay of which I couldn't identify. Very pretty birds.
I thought for sure I would find our newest pefa pair in Irondequoit at the Medley Centre.  Sadly I came up short again. I had to get home soon to take a pill and make a pitstop but I was drawn to downtown first. Bingo…from the Broad St. bridge I spotted a bump on the northeast corner of the launchpad on the Kodak Tower. I whipped over there and could see she had prey and a full crop!
I took a short video of her eating which will be at the end of my report.
Though it wasn't quite the exciting watch I had yesterday I certainly enjoyed myself  by just getting out and driving around. We folks in Rochester don't normally get 60 degree weather at the end of November so it was mandatory to get out and hang with nature!  I don't know about you but that always makes me smile!  🙂