Falcon watch 12-3-11
By Rochester falcon watcher MAK
Joyce came to get me this morning and asked me to drive as she was sick and didn't want to. We checked KP first so the dogs could have a run but Unity was no where to be seen. CarolP,Dana and Dawn were at the Irondequoit mall with the pair of falcons that hang out there so I decided we'd head over there. When we arrived Dawn had left and the female pefa was on an antenna.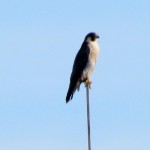 She soon flew over to the glass peak in the middle of the mall.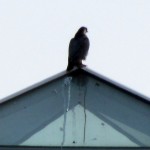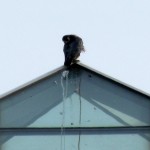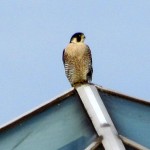 I noticed a large dark bird flying from the east and at first I thought it was a large crow until it got above the female pefa on the glass peak and we all yelled BALD EAGLE!
It was magnificent and he soared right above us too! Most of my pics were blurry but I think it's cuz I was so excited that I couldn't keep from shaking. My video is a little jumpy too for the same reason. A few minutes later Dana,Carol and Joyce spotted 2 juvie Bald Eagles off to the northwest for a short time. I missed them for some reason. After awhileI told Carol and Dana we were going to check around the other side for the male pefa and as we drove along the east end of the mall Joyce spotted him.
This pair of falcons are gorgeous! A funny coincidence happened where we were all discussing whether pefas mated at this time of year to bond. Well didn't that male fly over to the female quickly mount her and leave with her following him to the east and out of sight! Joyce and I missed it because of where we were parked but Carol and Dana witnessed it!  We are learning so much from our feathered friends aren't we? Who knew? Larry and Cleo came by shortly after the show, too late to even see the falcons. When the pair didn't return right away I decided we'd go look for the Beautyful one downtown. Joyce thought we should check the Irondequoit Bay bridge since that's the direction they headed but we didn't find them over there. On our way through Durand Eastman Park Joyce spotted a big Red-tailed Hawk in a tree.
After we left there we checked the Summerville and Charlotte piers for the Snowy Owl without success and then I headed down St. Paul Boulevard toward the city. As we were approaching the Hawkeye division of Kodak I spotted a large bird on the railing of a round metal structure on the roof.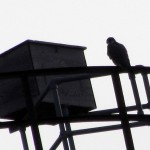 I knew this was a falcon and as Joyce walked up the street to get a closer look I stayed in the car and inspected the pic I had just taken of it's back. The tail surely looked familiar to me. Could this be Beauty I asked myself? Have I stumbled upon one of her hiding spots? Joyce came back to the car and we went to a parking lot where we could get a front view of this mystery falcon. I knew there was a nest box at this site but I'd never seen it until today. It was right above and in front of this pefa.I didn't even realize it was a nest box when I was on the backside of it.
After seeing the front of the bird I was fairly certain that this was in fact Beauty. CarolP and I had seen her a couple weeks ago flying from near this location to downtown when we were looking for another nest box on a school off of St.Paul Street. Joyce and I checked downtown and then went back to Hawkeye but she had left by the time we returned so we scooted over to KP to look for Unity. With no sign of her we ended our watch and called it a day! For more pics and a video of the Bald Eagle check out the links below and as always keep smiling!  🙂
Falcon watch with some friends