Saturday Falcon Watch and More! – 4/30/16
By Rochester Falcon Watcher Carol P.
Not too much going on around the Times Square Bldg while incubation continues.  So, we wait for the eyases to appear.  Lots of loud peeping coming from the eggs could be heard by those watching the Rfalconcam Streaming Video yesterday.  A hatch should happen soon!
Yesterday, I got a text from Larry O.  He would be bringing his dog Harold down for a watch.  Harold is very ill and this would probably be the last chance I would have to see him.  Dana, Kathy O and I joined Larry and Harold on Aqueduct St (aka "the hole).  Beauty was up on the top Ibeam of OCSR.  She didn't  stay long.  Beauty flew up to the nest box and Dot.ca flew out to take her place on OCSR.
That was the only activity we had until a wayward Turkey Vulture (TV) flew a little too close to the Times Square Bldg (TSB). Dot.ca was off and quickly caught up to the TV as it flew to the north side of the TSB.  We all watched as the Dot.ca hit the TV at least 5 times.  They were hard hits and the TV did all it could to get away.  Finally it did and Dot.ca again settled on the west corner, top IBeam of OCSR.
We ended our downtown watch.  Dana and I headed over to Seneca Towers where we found Seth (we believe) on the bridge.  He flew around to different spots, finally settling in a tree on the east side of the river.  If we hadn't seen him land there, it would have been almost impossible to find him.
Dana spotted this nest nearby.  We believe that it was a squirrel's nest covered in cotton material.  Smart squirrel!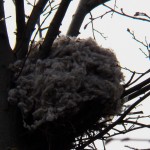 Here are some pictures from my watches last weekend.
Saturday – April 23, 2016
Sunday – April 24, 2016
I will end my report with a tribute to our friend Harold.  Over the years we have lost fellow watchers and the friends that accompanied them.  We miss them all….