My Last Visit with a Juvie – Leo on 8/2/16
By Rochester Falcon Watcher Carol P.
My last sighting of a juvie was on August 2nd.  It was Leo and he flew up to roof of City Place with Beauty, who gave him a small bird.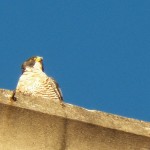 <— Beauty on City Place After Giving Food to Leo.
Leo then flew over to the Widow's Walk (WW) to enjoy his small meal and Beauty followed him.  There was a lot of vocalization between them.  She was on the northwest corner watching over him.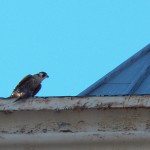 <— Leo on Widow's Walk with Food.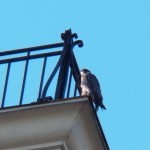 <— Beauty on Widow's Walk Watching Over Leo as he Ate.
After he ate his fill, Leo took off with his leftovers, heading north.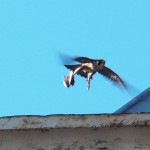 <— Leo Took Off with his Leftovers Heading North.
Leo landed on top of City Place.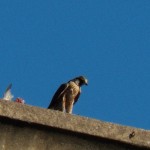 <— Leo on City Place with His Leftovers.
A few moments later, Beauty joined him.  Leo very loudly let his mom know that he did not want to share.  He grabbed his small bird and headed west with it.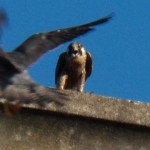 <— Leo was not happy when Beauty joined him on City Place.
After both Beauty and Leo left, I attempted to find him, but had no luck.  Later that morning, I did find a juvie within the framework of the Frontier Communication Tower, but was unable to get a positive ID.
This was the last time I saw a juvie downtown.  Beauty and  Dot.ca are seen most days and many of the watchers are still checking out the downtown area.  If any juvies are seen, we will be sure to post about it here.
Safe travels young falcons!