Falcon Watch Week – 12/6/16
By Rochester Falcon Watcher Carol P.
First I'll start by saying, it's been awhile since we've seen Genesee.  We hope he is safe and just out wandering.  That's what they do afterall.  🙂  Hope to see you again soon Genesee!
Over the past week, I have seen Beauty and Dot.ca (Downtown Rochester), Billie and Seth (Seneca Towers), the unbanded female at the Brighton Site and a pair  at Hawkeye.  After checking my pictures of the pair at Hawkeye, I believe that the male was banded and the female had no bands.  It was quiet and peaceful at all locations.
Here are some pictures from my watches.  Enjoy!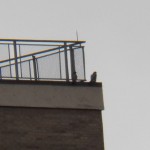 <— Billie and Seth on the NW corner of Seneca Towers (12/1/16)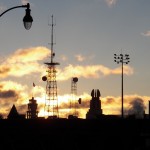 <— Sunrise over downtown Rochester. (12/4/16)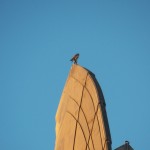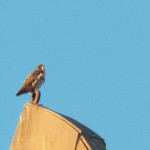 <— Dot.ca on Times Square Bldg wing ring.  Missed getting a pic of Beauty on OCSR. (12/4/16)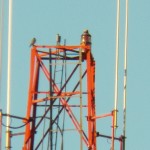 <— Dot.ca on Jail Communication Tower. (12/4/16)
Here are a few pics of the pair I found at Hawkeye. (12/4/16)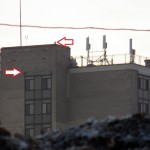 <— Billie and Seth on Seneca Towers from Maplewood Park. (12/6/16)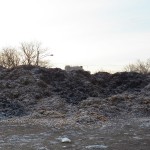 <— I had to take pictures of Seneca Towers over a HUGE pile of leaves! (12/6/16)