Saturday Morning Falcon Watch – 10/28/17
By Rochester Falcon Watcher Carol P.
We lost a good friend today.  For all you've done for us and the falcons, I thank you with all my heart.  RIP Mike Allen.  Miss you dear friend.  You are soaring with the eagles you loved so much.  🙁
My report will be short and sweet.  I usually go out for a Sunday morning falcon watch, but due to the fact that a storm was heading our way, I decided to get out this morning.
At the BS location I found the unbanded female on the east side tree ledge.  She eventually flew to a window, also on the east side.  Here are some pictures from my visit with her.
Downtown, I found Beauty on the Widows Walk (WW).
Beauty took off on a hunt, heading NE past the Hiatt.
While I was searching for Beauty, I found Dot.ca up inside the OCSR elevator shaft.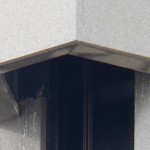 <— Dot.ca inside OCSR elevator shaft.
From the Andrews St Bridge, I could see a falcon on the base of the Mercury statue.  I parked on Broad St where I had a nice view of Beauty prepping her dinner.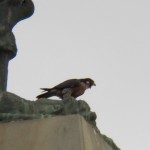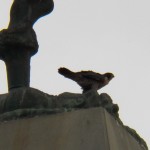 <— Beauty with food on base of Mercury.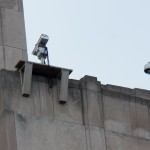 <— The Times Square Nest Box.
I left Beauty to her meal.  I was happy to see her have a successful hunt before the bad weather moved into Rochester.
On my way home, I checked Seneca Towers (ST), KP East and Charlotte.  I had no luck finding any falcons at these locations.
In Charlotte, I took a picture of this duck(?) trying to cross the road.  Any idea on what type it might be?