Sunday Morning Falcon Watch – 8/5/18
By Rochester Falcon Watcher Carol P.
Another very warm day in Rochester, NY, with temps of 90 degrees (F) due.  No rain in the forecast, just clear, blue skies.
*Be sure to click on any pictures in this report to see the full image.*
I joined Dan on the Court St Bridge just before 7:00 am.  It's always fun to join Dan on an early morning falcon watch.  Downtown was pretty much empty, no JW's or festivals this weekend.  I grabbed my chair and coffee and settled down for my morning watch.  There were no falcons to be seen, but there was a lot of activity above and on the river below us.  Lots of gulls and ducks and herons.  Dan pointed out the Black-Crowned Night Heron (BCNH) hunting for fish on the river and another one that had flown into the tree near the library.  As we were watching them, a third BCNH flew into the tree just below the one that was already there.
On the south side of the bridge, we saw two Great Egrets come in for a landing.  A third continued south down the river.
Also, there were two Great Blue Herons hunting below.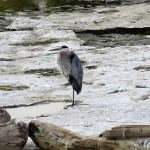 Larry O (with Zeke) joined us at 7:2o am and Joyce (with Casey and Abby) joined us at 7:45 am.  Although we had no falcons to watch, it was fun catching up with everyone and watching the river life below us.
At 8:00 am, Dan headed home and Joyce, Larry O and I headed over to the Frontier Communication Tower.  Joyce spotted one falcon on the east side below the platform.  Since it was quiet and we saw no others, we headed over to the pedestrian bridge at High Falls.  There was an adult Red-tailed Hawk on the south side of the pedestrian bridge, surrounded by House Finches!
Joyce pointed out where she saw the falcon on FCT.  This was our view from the pedestrian bridge.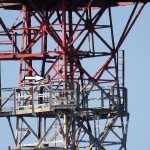 The Red-tailed Hawk took off and landed in a tree in front of the falls.
This was our view of the falls and downtown area.  Not much water was flowing over the falls due to the lack of rain.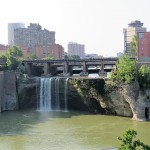 Larry had to leave, so Joyce and I returned to the Frontier Communication Tower, where we found both Beauty and Dot.ca.  There was definitely a juvie falcon up there, but we never did see it.  Beauty was on the north side of the platform and Dot.ca was under the platform on the east side.  We could hear the juvie falcon wailing every now and then.  Especially when Beauty moved.  We figured she was somewhere up there on the platform with Beauty.
Carrie joined us and I really hoped that Sundara would make an appearance for her.  Carrie is the falcon watcher that named her.  I ended my watch when our shade shrunk down to nothing around 10:45 am.  The temperature was rising and the falcons would hopefully find shade of their own.  I hoped my sacrifice would bring Sundara out of hiding.  🙂