Fledge watch 7-25-12
By Rochester Falcon Watcher MAK
Upon arrival in front of the Times Square building(TSB) I met Janey who works in the Thomson Reuters building with Patsy. I could see LarryO up on the Broad St. bridge(BSB) and Beauty was up on cam 4.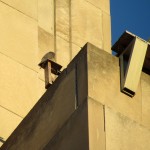 I joined Larry and could see Orion pushing his luck on the front ledge by the main cam as mom watched him.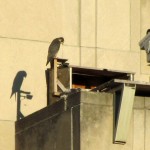 I had checked the livestream before leaving the house and Orion was flapping up a storm with those wings. Building up strength for when he takes flight! He messed around for awhile under moms supervision going over to what I call Callidoras  corner on the south side of the nest box. She used to pancake out on that spot and couldn't be seen on camera. We all would get nervous wondering where she was. lol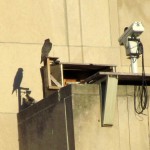 Larry spotted DC on OCSR before he left for work and when Beauty flew to the OCSR building I went down to the hole and set up my chair by the corner of Keybank. I met a nice man named Robert who asked what I was doing. I explained and pointed out Beauty and Dot.Ca (DC) on OCSR. He said "cool" and continued on. DC flew up river and came back settling on the Times Square building under the southeast wing.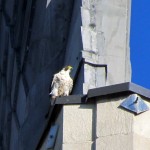 I packed up and made my way over to the corner of Exchange and Broad by the Blue Cross Arena(BCA). A man stopped and asked what I was looking at so I pointed out DC, the cams and nest box to him. His name was John and he stayed and chatted with me for about 15 minutes. He was thrilled to see DC through my binocs since he is legally blind and instantly fell in love with falcons.
Orion was very curious and noisy today. Flapping his wings frequently,yelling at mom and dad every time he saw them and wandering out on the edge of his little world many times. I'm sure his peeps on livestream chat had some anxious moments as did I.
I was so happy that DC was hanging out with us today. I was a bit upset with him yesterday for not being around to bring food and protect his territory. He has since redeemed himself  with me! lol I had the pleasure of watching him drive 3 crows out of the area actually mini stooping one of them several times. Archer didn't like crows either and entertained us many times going after them. Beauty and DC spent most of their time today on the OCSR building going off at times and returning. At one point they had both disappeared for a while and showed up on the 2nd ibeam near the elevator shaft on OCSR. They cache food there and I didn't actually see it but I think Beauty had a little morsel and was mantling it from DC.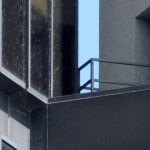 Make sure to click on pics for full version
A gentleman with a long lens camera asked me a couple questions about the falcons. I introduced myself and I found out this was Aaron who had been watching last nite with our watchers. Unfortunately there were no pefas in sight at the time so he left after a brief stay. I walked up on the BSB for a better view of things and found the Beautyful one on the jail tower. She flew from there over to the TSB landing on one of Archers spots which I call a cubby on the southeast corner just below where Callidora fledged to.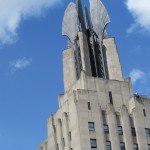 DebbieH came out to join me on the stairs at the BCA. We could hear Orion squawking up a storm as DC flew through making us chuckle. After Deb went back to work I saw Beauty fly through to the south losing her behind buildings I walked up to the bridge where I witnessed her fly east and then there were 3! My heart started pounding for I was afraid it was DC and Pigott coming to oust our fair Beauty! All I could think was how they double teamed her when she first came back after rehab. Anyway, i followed them with my binocs as they flew higher and higher into the clouds and then I lost them. There never was any contact made between them just a pair being trailed by one whom I believe was Beauty. I kept looking for them but never saw them again.
Beauty and DC eventually showed up on the TSB and Orion was safe so I was happy. No harm no foul right? Toward the end of my watch DC flew in under the southeast wing with Beauty down on the deck with Orion. All was right with the world and though my back was hurting and my head was pounding I left downtown smiling for having spent a great day with our beloved Rochester Peregrine Falcons! 🙂
Click on the links below for many more pics from the day and 3 videos
http://share.shutterfly.com/action/welcome?sid=0AaN3DFm0ZMWrC8g