Morning watch 9-2-12
By Rochester Falcon Watcher MAK
When I rounded the corner from my bus it was like deja vu as I saw Orion on the base of Mercury like yesterday morning. Then as I started trekking up the Broad St. bridge(BSB) I didn't see Dan parked in his spot. When I reached the middle of the BSB Dana drove up and parked and suddenly a Great Blue Heron flew in and landed on the railing. How cool is that?
What fun at 6:20am right?! The heron flew down into the river and a minute later Dan and CarolP showed up. About 10 minutes later Orion flew to the east having seen Beauty fly in and land on the southwest corner of Xerox. He landed on the northwest corner and soon after they both flew off behind Xerox out of view. Larry joined us around this time followed by Jeanne. Carol,Dana and I decided to take a walk to the east side and look for our beloved falcons. On the way to HSBC Dana saw Beauty fly around the building and disappear. No falcons on HSBC but Carol spotted Orion on the southeast corner of Midtown as we were making our way back to the BSB.
20 minutes later Orion flew off heading north, so we continued on back to the BSB. As I stood at the intersection of  Broad and South Ave. by Central Library, I took a look around with my binocs and spotted Orion on the roof of OCSR at the south corner.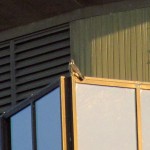 Larry had left earlier and now Dan had to leave. Orion flew off after a small bird going around to the back of OCSR and vanishing. Carol and Dana left to look for him while Jeanne and I stayed on the BSB to hold the fort down as they say. I spotted a Kestrel which flew to and landed on the base of Mercury. He stayed a few minutes before he took off chasing a smaller bird out of view. Dana and Carol returned and so did Orion landing on the base of Mercury.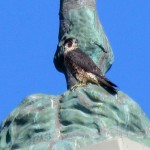 He looked to be in hunt mode. Carol,Dana and Jeanne crossed to the north side of the bridge to get closer while I stayed with our chairs and stuff. At approximately 9:15am Orion stooped off Mercury and caught his own breakfast! Now whether it was his first time to do this we'll never know but it was the first time any of us watchers witnessed it. Yippee, Woohoo our little guy is all grown up! He flew toward the jail tower, back above the Blue Cross Arena(BCA) over the Thomson Reuters building almost like he was showing it off to us before he took it to the Times Square building(TSB). He landed on the ledge right above where he fledged to on the southeast corner and took his treasure to the back of it where we couldn't see him to eat.
The girls walked down to the front of the BCA while I stayed on the BSB guarding our stuff. Every once in a while Orion would pop his head up so I would know he was still up there. Eventually, they returned saying that they could see him from down there. As we sat there watching Orion MarkB stopped by on the way to his office in the TSB. When we told him about Orion catching what we believe was a Starling his face lit up with a great big smile! When Orion was finished eating his catch of the day he flew off to the north. We thought perhaps to the Frontier Communications Tower(FCT).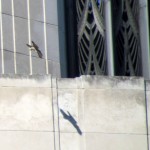 We were all ready to head home at this point so before leaving we checked the FCT. Having no luck locating any falcons Dana and Carol left. Jeanne and I stayed to greet Suzanne and Don from Ithaca who had texted me that they were on their way to have a falcon watch for themselves. When they arrived we chatted for a bit and then Jeanne and I left for home. It was good to see Suzanne and Don for I hadn't seen them in well over a year. Jeanne and I left downtown smiling for having had such a wonderful morning watch! 🙂
Check out my photo album and videos by clicking on the links below
http://share.shutterfly.com/action/welcome?sid=0AaN3DFm0ZMWrHTA
http://youtu.be/2VXajCd9f_8
http://youtu.be/g5io5MnS9wM
http://youtu.be/MonzFXjSWMw
http://youtu.be/TrU0db2VxM4