Morning watch 10-24-12
By Rochester Falcon Watcher MAK
As I approached the Broad St. Bridge(BSB) on a dark but rain free morning, I could see that the circus had the entire south side of the bridge filled in with their trailers. The Court St. bridge is closed off completely- inundated with circus vehicles and activity.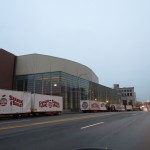 So I took a quick look around for a falcon and when I didn't find any I moved on to the east side. Nothing over there so I took a ride around the city. Finally, after making a mistake and having to get on Interstate 490, I returned via Clinton Ave. to the east side and spotted Beauty up on the northwest corner of HSBC.
5-10 minutes later she took off and quickly left my field of vision. I tried to find her to no avail so I elected to take a ride to the Brighton site. Happily I found Pigott on a southwest roof corner.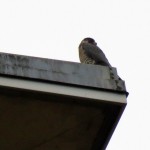 10 minutes later Dot.Ca (DC) came flying in from behind me making a lot of noise. Pigott flew out to meet him as they both quite vocally chased a gull together. After driving the poor gull (who didn't know what direction to flee) out of the area they returned to the building. DC went to the farthest west roof corner on the south side and I lost sight of Pigott. Then suddenly I could hear her echoed echupping and DC started chirping back. I thought she must be in the cubby so I took a look and sure enough there she was, but as soon as I got over there  she walked in farther where I couldn't see her.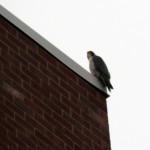 At this time a man stopped to ask for directions and I lost both of them. Next, I found them on the west side on opposite corners. DC left while I was watching Pigott and then she flew to a southeast window ledge. I could see that she had a full crop.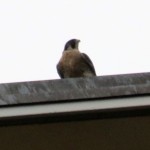 These two gave me quite a busy time trying to keep up with them, (especially Miss Pigott) flying out and back to the building many times landing on window ledges and roof corners. They did this together 90 percent of the time. Much different from Beauty and DC who only occasionally fly together.
Pigott flew to the front of the building while DC and I remained in the back and when she came back she went to the vent on the south(back) side and landed on it.  Pigott walked the length of the vent twice almost like strutting her stuff ending up on the east end of it. DC was on a southwest corner and Pigott flew over to a corner opposite him.
They both flew south and returned to the vent. While I taped Miss Pigott, DC snuck off on me. I waited a bit for DC to return and when he didn't I said goodbye to Pigott and headed for downtown. It took a couple trips around the city but I eventually found Beauty on the top arm north side of the jail tower.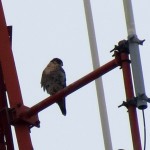 I watched the Beautyful one for a few minutes from Exchange Blvd. just south of Court St. and then I ended my watch. I smiled as I left the city for I had seen 3 of the 4 Peregrine Falcons that grace our Rochester skies! 🙂
For more pics and videos click the links below
http://share.shutterfly.com/action/welcome?sid=0AaN3DFm0ZMWrMMA
http://youtu.be/gA4eYe50I80
http://youtu.be/aFOxyAWC0tc
http://youtu.be/gbBFASC304k