An all day Falcon Watch 1-27-13
By Rochester Falcon Watcher MAK
Well today went a lot different than I would have ever imagined but nature is like that don't ya know! I arrived downtown about 7:10am hoping Beauty didn't get up early again today. As I sat on the Broad St. Bridge(BSB) looking for her the Aqueduct pigeons came flying up from under the bridge in their usual fast manner about a half dozen at a time coming to settle on the Blue Cross Arena roof telling me that the Beautyful one was not in the immediate area. Ok so where was she off to already-that is the question every day that she goes to her secret place where none of us can find her. 20 minutes later as I was scanning the roof tops I spotted something on the northeast corner of the Crossroads building. It was 7:38am and still a bit dark out and the distance was too far for a positive ID but at first glance I thought it was cached prey. I took pics from the BSB,Andrews St. Bridge,Bragdon St. and finally Graves St. which is right by Aqueduct Park. Each pic looked more and more like a pefa to me and when I zoomed the last one and saw the big yellow foot my heart sank!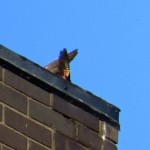 I broke out in a sweat and felt nauseous thinking it was Beauty. I made a few calls and waited – pacing back and forth, looking up at that corner,talking to myself with tears in my eyes. KathyO,Lisa,Dana and CarolP were about to leave for Buffalo to see Diamante at Central Terminal but they came down to check things out first. Luckily they found Beauty on Widows Walk eating and let me know. I went over there, immediately got out the car, took a pic and was satisfied it was our girl Beauty breathing a sigh of relief and yelling " it's Beauty".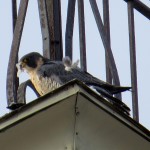 I then high fived Carol and Kathy and showed everyone the Crossroads pic. They all agreed that it looked like a pefa. So who was it if not Beauty-maybe the big female KathyO and I saw on Lake Ave. yesterday or perhaps one of ours. The girls left for their trip and I went to the Brighton Site(BS) to rule out that it was Pigott or BST up there. Arriving at BS about 10:15am I found BST immediately on the east extension on a south facing window.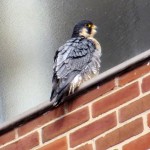 Ok no Pigott- I thought no big deal she isn't always here in the morning when I am so I sat back and watched BST do BST things. He did have one little nap when I first got there but for the rest of my watch he mainly just looked around at his surroundings and preened. At 11:30am BST walked to the end of the ledge where the east extension meets the main building and hopped over to a kiddie korner window ledge across from where he was.
In the hours that I spent at BS I periodically drove around the property and looked for Miss Pigott- getting increasingly nervous that she wasn't showing up and praying it wasn't her on Crossroads. At 1:50pm BST made a move off the building flying to the back of the property and coming to rest in the tree I had seen him in a couple weeks ago(not the pefa tree). 3 crows were dive bombing and jabbering at him but he seemed unbothered by them.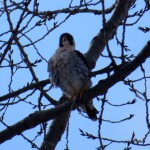 After the crows left BST flew out to BS circled it a few times landed on a southwest corner briefly and returned to the tree. A while later he flew off and grabbed something small and as I started taping BST with his catch a man came out of the building and asked if he could help me. I said nope, turned the video off and pointed out our little BST up in the tree-I never dreamed I'd be an educator of sorts but I can't help myself when people ask. Anyway the guy said I could park up in the parking lot if I wanted to so I said thanks and he was on his way.  After looking at my pics I think it looks like it could be a bat that BST caught.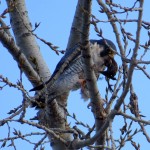 Now about this time I was getting antsy to go downtown and check on Beauty who had been on Mercury all this time for any possible injuries from a battle. I left BST to finish his little snack and was happy to find Beauty in fine condition and looking Beautyful up on her money bag at around 2:50pm.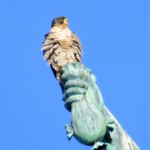 15 minutes later she spread her wings and flew off to the north out of sight. She flew just fine and her wings looked flawless!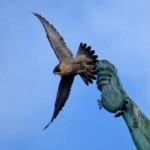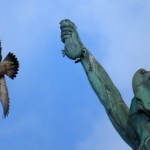 Click pics to see full version
Back to BS I went satisfied that Beauty was ok. BST was still in the tree when I returned at 3:20pm. 15 minutes later he flew to BS landing on  the northwest corner of the west extension. Minutes later a falcon came flying in from the northwest knocked him off and took his place on the corner. BST flew over to the scrape window ledge and as I took a good look I was ecstatic to see that it was Miss Pigott come to join us with an extraordinarily huge bulging crop. So while everyone was worried about her she was out gorging herself! Fine by me!!!
Joyce and Steve joined the watch and after I chatted briefly with them I ended my watch at 4:08pm- almost exactly 9 hours after starting my morning watch. Sadly there is a dead raptor up on the Crossroads building but our 3 current Rochester Peregrine Falcons are safe and sound tonight and I am so smiling about that! 🙂
Click on the links below to view my photo album and 7 videos from my day
http://share.shutterfly.com/action/welcome?sid=0AaN3DFm0ZMWrUTg
http://youtu.be/bpKnsM9kn-k
http://youtu.be/iufozz93Ka0
http://youtu.be/wRTXM-oNTfE
http://youtu.be/eoHbNLwqZLo
http://youtu.be/EpPuA-wk8tg
http://youtu.be/4H1t0kfETYE
http://youtu.be/sB07alfNPXk