Morning watch 1-29-13
By Rochester Falcon Watcher MAK
This mornings watch was all about the heavy fog that inundated our fair city.
I checked the northeast corner of the Crossroads building to confirm that the remains of the dead bird hanging on the edge of the roof were no longer visible. I had a hard time finding Beauty this morning so after looking for an hour and a half I went to the Brighton Site. I found a falcon one window down from the scrape on the west extension but I couldn't say who it was because of the foggy conditions.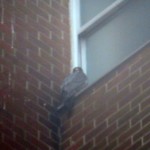 That is the best I could fix the pic so you can even see a falcon. 5 minutes later just before 9:00am it flew up to the scrape window ledge and was now facing out.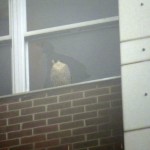 Still I couldn't ID who this was and in less than a minute it flew off heading north. I lost it in the fog quickly. I checked around the building and surrounding trees a few times but came up empty so I returned to downtown to find the elusive one Beauty. After searching around the city a couple times I spotted her as I approached the Broad St. Bridge from the east side. She was on the money bag hand of Mercury. I drove down in the hole as there was no parking on the bridge.
After I took a couple pics of her I checked my phone which had gone off to see that Donna had also discovered Beauty on the rfalconcam. It's good to have people trying to help us watchers as they keep an eye on the cameras. Thank you! Beauty was in hunt mode and she soon spotted something below her. After sizing it up she flew off stooping down to the river and back up where I could see that she was unsuccessful in her attempt to grab whatever it was that she keyed in on.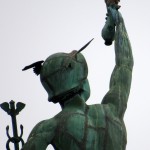 Remember to click pics for full version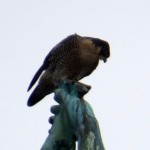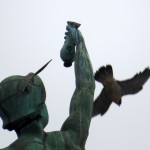 Beauty flew north behind the OCSR building where I lost sight of her. I had to get going but I left smiling for having found the Beautyful one! 🙂
Click on the 2 links below to view our foggy falcons