Beauty and the Tiercel! Yes! (5:45 – 6:50 pm) – 2/25/13
By Rochester Falcon Watcher Carol P.
I wasn't able to go directly downtown after work today and I almost decided not to go at all.  Thankfully that didn't happen.  At 5:30 pm, I was ready to go, but where to first?  Downtown of course.  Since the light was already fading, I knew I didn't have long before it was dark.  It had been overcast all day long, not one bit of sun, with temps in the 30's (F).
Taking my normal route through downtown, I checked out the Kodak Tower first and then worked my way over to the Andrews St Bridge (ASB).  Scanning the area with my binoculars, I spotted Beauty on Mercury's upraised moneybag hand.  I took a quick picture and then headed over to the Broad St Bridge (BSB). (5:40 pm)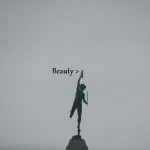 *
*
*
*
*
The Broad St Bridge was pretty much empty by 6:00 pm and the traffic was lessening.  I parked on the north side of the bridge facing Mercury and the Times Square Bldg (TSB).  I was just getting ready to take another picture of Beauty before heading over to the BS location to check on Pigott when I looked up at the TSB and saw a familiar shape sitting on the ledge above the nest box.  What!  My camera moved from the Mercury statue to the TSB and I took a picture of the falcon sitting up there.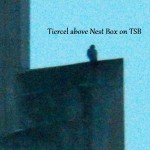 *
*
*
*
*
I quickly checked the Mercury statue to make sure that Beauty was still there and yes, she was!  Woohoo!  I quickly tweeted out with shaking hands "WE HAVE TWO!".  It was time to get out of my car and observe these two.  There were so many questions running through my mind.  Was this DC?  Was it another tiercel?  Would they be aggressive?  Beauty obviously knew the tiercel was on her building sitting just above her nest box and she seemed ok with that.  She was just watching and so was I.
The tiercel took off and flew over the river, past the Hyatt, crossed in front of the Lincoln Bldg heading towards the B&L bldg.  That was where I thought he was going to land, but he didn't.  He turned back, heading towards the Hyatt and landed on the south side on a lower roof.  Not the normal spot I would see Beauty on beneath the sign.  I turned back to see Beauty take off and go to the nest box.  She didn't stay long.  Beauty left the nest box and flew out to the Hyatt landing a few feet to the right of the tiercel.    I quickly tweeted out again what was happening.
They stayed side by side for a short while and then the tiercel took off and did some spectacular display flying for Beauty.  I hadn't seen this type of flying in a very long time.  Kaver flew like this for Mariah.  It is a joy to see.  I truly wished it had been lighter, since I would have loved to get a video of this aerial ballet to share with everyone.
Beauty stayed on the corner of the ledge while the tiercel flitted about, flipping and flapping his way around her.  Landing now and then and taking off again.  In this picture he landed just to her right.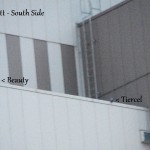 *
*
*
*
*
I can not say if this is DC or another tiercel that is trying to impress Beauty.  Just before I arrived downtown for my watch, the nest box cams caught this picture of the both of them at the nest box.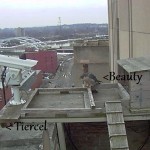 *
*
*
*
*
Fellow Watcher Pat walked by me on her way home from work and said hello.  She didn't know that there were two falcons, so I told her what I had seen.  After she left, I continued to watch Beauty and the tiercel, who seemed to both be settled on the lower south ledge of the Hyatt.  Kathy O soon joined me on the BSB, but by that time, it was dark and very hard to see anything.  Beauty was gone from the corner of the ledge, but I never saw her leave, so I wondered if she had just moved back where I couldn't seen her any longer.
This picture shows where Beauty and the tiercel were located.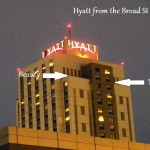 *
*
*
*
*
By 6:50 pm it was dark, so Kathy and I decided it was time to leave.  I am very excited to see if we will find out who this tiercel is tomorrow.  I hope he'll visit the nest box and that the cameras there will reveal if this is DC or another tiercel.  All I know is that Beauty seemed very comfortable with him and the tiercel with her.  So it begins!