Morning watch 2-26-13
By Rochester Falcon Watcher MAK
It was forecast to be sunny this morning with clouds and snow coming in the afternoon. The temperature when I left for my watch at 6:15am was 26 (F) -3 (C).
I went straight away to the Broad St. Bridge (BSB) to check the Hyatt Hotel for that's where the new mystery tiercel(male) Peregrine Falcon was last seen. I have named him M as in Mystery for ease of tweeting and IDing. M was still on the Hyatt on a lower roof south corner.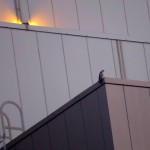 I left the bridge to go up to the top level of the South Ave. garage for closer viewing since it's connected to the Hyatt. I was able to get many pics of M and some leg shots that showed he was wearing no leg bands.
M stayed up there for an hour before flying toward the Times Square Building (TSB). At 7:40am I could see Beauty at the nest box and M circling above the TSB. Beauty left the nest box to fly with M briefly and then he flew behind TSB and came around the south side landing somewhere. From my vantage point I couldn't see where exactly and neither could Beauty for she flew to Mercury and was looking for him.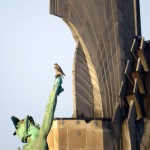 I decided it was time to get down off the garage at this time and while I was in transit Beauty left Mercury but as I parked in front of the Blue Cross Arena on Exchange St. I had  a clear view of M on a south side column of TSB.
There was no aggression shown between Beauty and M at any time during my watch. Beauty came flying in above M checking him out and then she disappeared for half hour. At 8:44am M flew off and met Beauty for a brief fly together near the Wilder building and then Beauty flew to the nest box with M going to the ledge on the south side of TSB across from the nest box where Calidora in 2010 and Orion last year fledged to.
Then they both flew off going behind the TSB where I lost them. At 9:24am M went to  the south column opposite nest box one level up and Beauty to the west corner top ibeam of OCSR.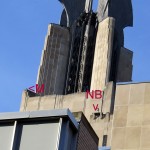 A few minutes later M flew over near Beauty on OCSR and did a little display flying for her. She flew off with him going behind OCSR and she returned to her west corner top ibeam of OCSR as M never returned and that was the last time I saw him on my watch. She flew off a few minutes after that and then I couldn't find her either so I took a ride to the Lake Tower and Brighton sites to check but I could find no PEFAs at either location. I then returned to downtown and parked on the BSB where I spotted the Beautyful one back on the OCSR west corner top ibeam at 11:00am.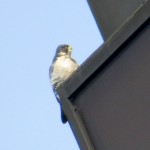 She was in the bright sunshine as she stayed there for the next 30 minutes. At first I thought Beauty had flown north but Donna let me know she had just gone around the corner as I parked on State St. across from the Rochester Plaza Hotel to observe. At 11:41am Beauty flew off OCSR and came straight  across between the Crossroads building and the hotel to land on a pole directly above me. The address on the front of the building was 39 State St. and it's connected to the Powers building.
Beauty flew off the pole heading southwest and I quickly lost sight of her being surrounded by buildings. I took a ride around the city without finding Beauty or M and ended up on the Andrews St. Bridge where Joyce and Steve met me. It was at this point I ended my 6 hour watch which flew by and seemed more like just a couple hours. Keep smiling as we begin the season here in Rochester with 3 females and one unbanded male-I know I will! 🙂
Click the links below for more pics and videos of  M
http://share.shutterfly.com/action/welcome?sid=0AaN3DFm0ZMWrWxA
http://youtu.be/4B88dk9pLcw
http://youtu.be/MsfEv1qKVoc
http://youtu.be/92-Prwj2rXk
http://youtu.be/t5Xy156dh5o
http://youtu.be/Bmt3zZtBvOg