Custom Eyas T-Shirts At The RFalconcam Store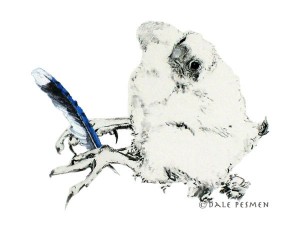 The latest t-shirt design available in the Rochester Falconcam Zazzle store comes to us courtesy of Dale Pesmen. Besides being a long-time fan of the Rochester falcons, Dale is quite the artist. Her image of a peregrine eyas playing with a feather is a real keeper, perfect for any falcon lover!
At the Rochester Falconcam Zazzle store you can order the eyas on a white or black t-shirt, with a choice of red, yellow or blue feather. You'll be helping to maintain the Rochester Falconcam with your purchase, and you can show off the work of a very talented artist at the same time. So head on over to Zazzle or one of our other stores for all of your Rochester Falconcam merchandise needs!