Time To Choose A New Rfalconcam Logo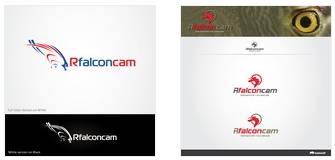 Recently the Rfalconcam's Merchandising team embarked on an effort to update the logo we use on our website. Our current logo features Kaver in a stylized egg. It has served us well since the Genesee Valley Audubon Society took over the falconcam from Kodak back in 2007. We know that many of our watchers are very fond of the logo, and we intend to retire it with all the honor it is due. A new logo will help us to update our look as we move into 2011 with new cameras and a new and improved web experience.
Several weeks ago we put out a call to graphic designers to submit their ideas for a new logo. Using the popular Crowdspring website to manage the process, we received over 100 submissions that literally covered the spectum of design, color and content. We want to thank all of the artists and designers for their very engaging submissions!
Whittling down the list of submissions was a difficult task. We listened to the feedback from the Rochester Falconcam community, and that feedback figured prominently in our deliberations. After much discussion and wrangling, the Merchandise Committee has settled on two logo designs.
A couple of notes about the logos… oftentimes the designers included sample banners or other graphical elements in their submissions to demonstrate how their logo might work. The submission on the right includes such a banner at the top. This banner is for illustration only; it's not the banner that we'll be using and it's not part of the submission. When you're evaluating the choices, please concentrate on the logo itself, not on backgrounds or other style elements that may also appear in the picture.
Also, you can get a larger image of the logo by hovering your mouse over the upper right corner of each one. When you see a little magnifying glass icon appear, click it to open a larger view of the image. If the image runs off the top of the screen just move your mouse onto it, then click and drag it to view the whole thing. Close the large image by clicking the "X" in the upper right corner.
Now we'd like your help to choose our new logo! Click the logo images above to go to Crowdspring's website. There you can view both of the logo finalists. You can assign a rating to each one, ranging from one to five stars. You can also leave comments or feedback about the designs. We hope you'll keep your comments constructive, as the designers clearly put a lot of time and effort into their submissions. We'll keep the voting open through Sunday, December 5th. After that, we'll reveal the winner of the voting and adopt that design as the new Rochester Falconcam logo. So head on over to Crowdspring and let us know what you think!