Callidora – More About What Happened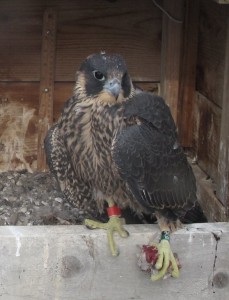 Rochester Falconcam team members have spoken to Beth Shoaf & Lisa Vezzani, volunteers at Wildlife Works in Youngwood, PA. With their help, we were able to find out more about what happened to Callidora on Friday, January 20, 2012.
According to Beth & Lisa, Callidora was found inside the ArcelorMittal Steel Mill in Monessen, PA on January 20, 2012. She was spotted by workers inside the mill on the ground with her injured right wing hanging low, unable to fly. They were able to catch her and contact Wildlife Conservation Officer Beth Fife, who took Callidora to Wildlife Works, located about 40 miles from Pittsburgh, PA.
Callidora's wing was badly damaged. Both the radius and ulna were shattered in three places. The breaks were severe. The Antebrachium is the middle portion of the wing, consisting of the radius and ulna. The secondary feathers attach to the ulna.
Later that day, after further inspection of the wing by the rehabber consulting with an orthopedic surgeon, they found it to be totally shattered and non-repairable. They decided the kindest thing to do was to euthanize her. They are saddened by this as we all are.
There is no way to know what happened to Callidora to cause the injury to her wing since there were no witnesses as far as we know. The one thing the rehabber was able to say is that she was not emaciated and that she had a full crop. She also had her adult plumage.
Callidora was found in Monessen, PA. Click on this link to see a picture of the area.
http://www.city-data.com/picfilesc/picc59088.php
Here is a link to the rehabber's (Wildlife Works) website:
http://www.wildlifeworksinc.org/home
We here at Rochester Falconcam and all the folks that watched Callidora and her brother Jemison grow to fledge from the Times Square building in downtown Rochester, NY, want to thank Beth, Lisa and all the good folks at Wildlife Works that helped with Callidora's care. A big thank you to the workers at the ArcelorMittal Steel Mill in Monessen, PA, who rescued Callidora and contacted Wildlife Conservation Officer Beth Fife, who we also thank. Also, thanks to Kate St. John for contacting us to let us know what happened and Juanita Woods for helping to identify Callidora.
Fly Free Callidora. You will be missed by many.