Our 2020 Rfalconcam Calendars are Now Available! 10/18/19
The 2020 Rfalconcam Calendars are now available. This year's calendar is full of all kinds of awesome pics of Beauty, Dot.ca, Donna, Phoenix, Jupiter and Lakota. 2019 was a memorable year for our Rochester Falcons. We had our share of sadness (with the loss of Donna and Phoenix) and happiness (knowing that Jupiter is thriving in rehab and seeing Lakota recently interacting with Beauty and Dot.ca).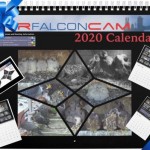 Click here for 2020 Rfalconcam Calendar!
We are also offering the classic Shakymon Calendar for 2020.
Click here for 2020 Shakymon Calendar!
We hope that you enjoy both of our 2020 calendars!