Offspring Update: Rhea Mae's First Hatch!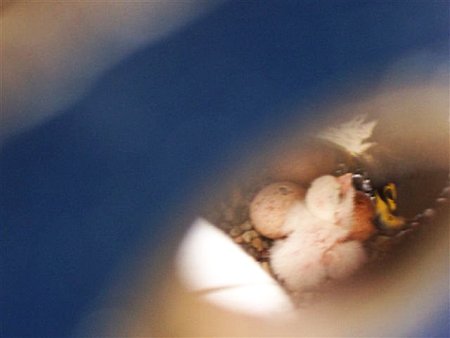 Photo courtesy of Linda Woods/Canadian Peregrine Foundation
We at the Rochester Falconcam are delighted to receive the news that Rhea Mae and Tiago's first eyas hatched today! Sometime around 9:00 AM the first of their four eggs hatched. Canadian Peregrine Foundation member Linda Woods rushed over to the hotel to snap this shot of one of the adults tending to their fluffy new nestling. The egg to the left of the eyas has a pip in the top of the shell, so another hatching might be happening soon.
Rhea Mae and Tiago have three more eggs in the nest. You can watch all the hatching action at the Canadian Peregrine Foundation's Sheration Centre Nest Webcam!
UPDATE!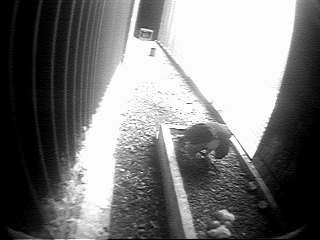 A second egg appears to have hatched. Here's a picture saved from the CPF website and sent to us by Carol Phillips showing Rhea Mae with two eyases. It looks like we're going to be busy here at Imprints keeping track not only of Mariah and Kaver's nest, but those of their offspring too!
-Jess