Calling All Student Falcon Artists!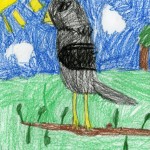 Here at the Rochester Falconcam we love to see the creativity of our viewers. Recently we received this drawing by Riana, a second grade student at the Canandaigua Primary School. We liked Riana's picture of Mariah so much that we've decided to post it here for everyone to see!
Riana's picture got us thinking. After all, she can't be the only young artist out there. So if you're a student (18 yrs. or younger, please) and you've drawn, painted or made other kinds of art featuring Mariah and Kaver or their family, we'd love to see your work!
Send a photo or scanned image of your creation to jess@rfalconcam.com and we'll feature it in our Student Art Gallery! We'll run the gallery now through the end of July. Be sure to include the name of the artist, the grade you're in and where you go to school.
We're looking forward to seeing all of your work!
-Jess