A Quartet of Offspring Updates: Banding
Rhea Mae & Tiago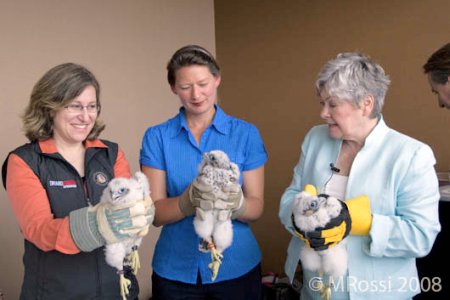 Rhea Mae laid four eggs this year. They all hatched, but one of the eyases sickened and died within a few days. The other three are all healthy, and on June 3rd they were banded by members of the Province of Ontario's Ministry of Natural Resources and the Canadian Peregrine Foundation. Also on hand were several members of the Rochester Falconcam. They were given the honor of naming one of Rhea Mae and Tiago's offspring!
The three eyases were examined, banded and named as follows:
Unity (named by the Rochester attendees) Male 24 days of age and sporting a blue and red "taped" band
Belle Female 24 days of age, wearing a red and yellow "taped" band
Lilly Female 24 days of age, wearing a white and blue "taped" band
Linda Woods of the CPF reports that both Rhea Mae and Tiago put up a spirited defense of the nest during the banding. Rhea Mae is reported to have physically blocked the nest with her wings outstretched, and actually had to be moved out of the way by the banders! Linda also notes that the eyases have begun expressing their own "personalities". She writes:
Belle appears to be a bit of a "Prima Donna" preening constantly and always preferrs to sit on the lip of the nest tray.
Unity enjoys stamping his feet, as if he were Tom Cruise dancing in the movie "Risky Business", and Lily, she sits back, flips her head upside down and watches the others doing silly things.
Rhea Mae and Tiago look like they're doing a great job raising their three youngsters. We're looking forward to hearing more reports when they fledge.
---
Freedom and Millie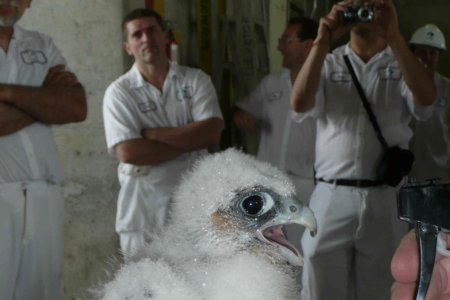 At the ADM plant in Port Colborne, June 7
th
was the big day for banding. Only one of Freedom and Millie's three eggs hatched this year, but that's pretty good considering that Millie is not yet fully mature.
Doug Garbutt
reports:
Today was an interesting day in Port Colborne. We had some very special guests here to band our young falcon. Mark Nash & Bruce Massey from the CPF, Anne Yagi from the MNR & 2 girls from the Owl Foundation were all on hand. Many interested workers took the opportunity on their lunch break to view as well. Mom & dad falcon showed their displeasure while the young one was missing. Anne determined the bird to be a healthy male weighing in at just over 700 gms. He now has a solid black band 40 over V with red tape on the USFW band. Gunner was chosen as a name from the list submitted by employees.
As you can see, Gunner is well fed and a real healthy tiercel. Thanks to Doug, Rolf, and all the folks at Port Colborne for taking Freedom to their hearts and looking out for his family!
---
Millie and Swifty
Rochester Falconcam team member
Lisa McKeown
has been keeping up with Millie, Freedom's daughter from 2005. It turns out she and her mate Swifty had three eyases this year. They were banded the day before the Rochester falcons. Here's Lisa's report:
I spoke with Dave Scott from the Ohio Dept of Natural Resources,
Division of Wildlife. Here is an update on Millie, Freedom and
Purity's daughter.

She is nesting at the same place as last year, the Bayshore Power
Plant in Oregon, Ohio, just east of Toledo. Once again she did
not use the nestbox and chose the conveyor belt. She is with the same male
as last year, Swifty.

Millie laided three eggs this year. On 5/28/08 they banded the
eyasses. There are 2 females and 1 male. Here are the names and band
information for the eyasses:

Electra (female) black P over green 55
Sparky (female) black S over green 75
Chance (male) black D over green 47

WooHoo three more eyasses to carry on the legacy of Mariah, Kaver, and
Freedom!
More great-grand eyases for Mariah and Kaver– Amazing!
---
Linn
Finally, According to
Mark Nash
and the observers at the Canadian Peregrine Foundation, Linn continues to be seen at the converted hack box she took over late last year at the east end of Toronto. An unidentified male has been observed with her, but there was no nesting activity. The fact that she and the male are both sub-adults makes this feat even more impressive, since there is bound to be competition for nesting spots in the Toronto area. We're hoping that Linn and her male friend will maintain control of their territory and perhaps next spring we'll be able to report that they've begun a family of their own!
-Jess