Moving Toward Fledging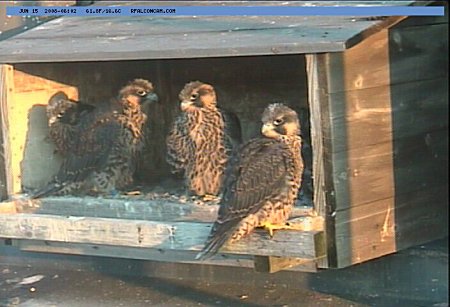 This morning brought us the first evidence that the eyases are starting to test the boundaries of the nest box. Here's "Z-man", Zephyr, standing on the perch rail of the nest box a little after 6AM today, while his siblings look on. Over the next few days we should begin to see more of the eyases moving out onto the perch rail. This position gives them more room to spread their wings and exercise the muscles they'll use when they take their first flights.
Last year, the first of the 2007 eayses fledged on June 20, so the next several days promise to bring some real excitement! Our fledge watchers will be out and reporting soon, so we'll bring all the news to you as soon as we receive it.
UPDATE!!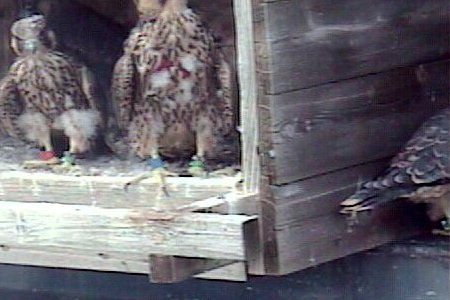 Zephyr has left the nest box! He hasn't flown yet, but as you can see in the picture above he's hopped over to the small ledge beside the box. Our on-scene watchers report that he and his siblings have spent the day practicing their wing-flapping. Now that one of them has taken the first steps beyond the nest box, it's likely the others will follow before too long.
UPDATE June 16!!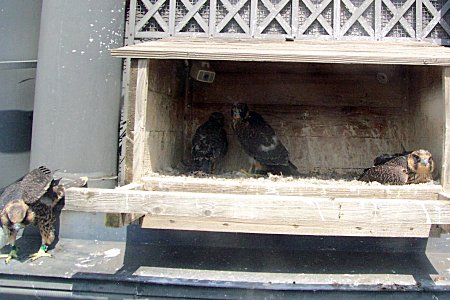 Susan B. took her first step out of the nest box yesterday, but didn't go farther than the perch rail. Today she was out again, this time on the ledge beside the nest box. In the picture above Susan B is on the left.
Zephyr took another walk outside the nest box this morning, and this time he jumped down onto the catwalk beneath the nest box. It's an area the local watchers call the "Playpen" because the pre-fledge eyases have a lot of space to run around there. We'll try to get some shots of Zephyr in the Playpen using Camera 1's ability to pan tilt and zoom, so keep watching!
-Jess