Winds Of Change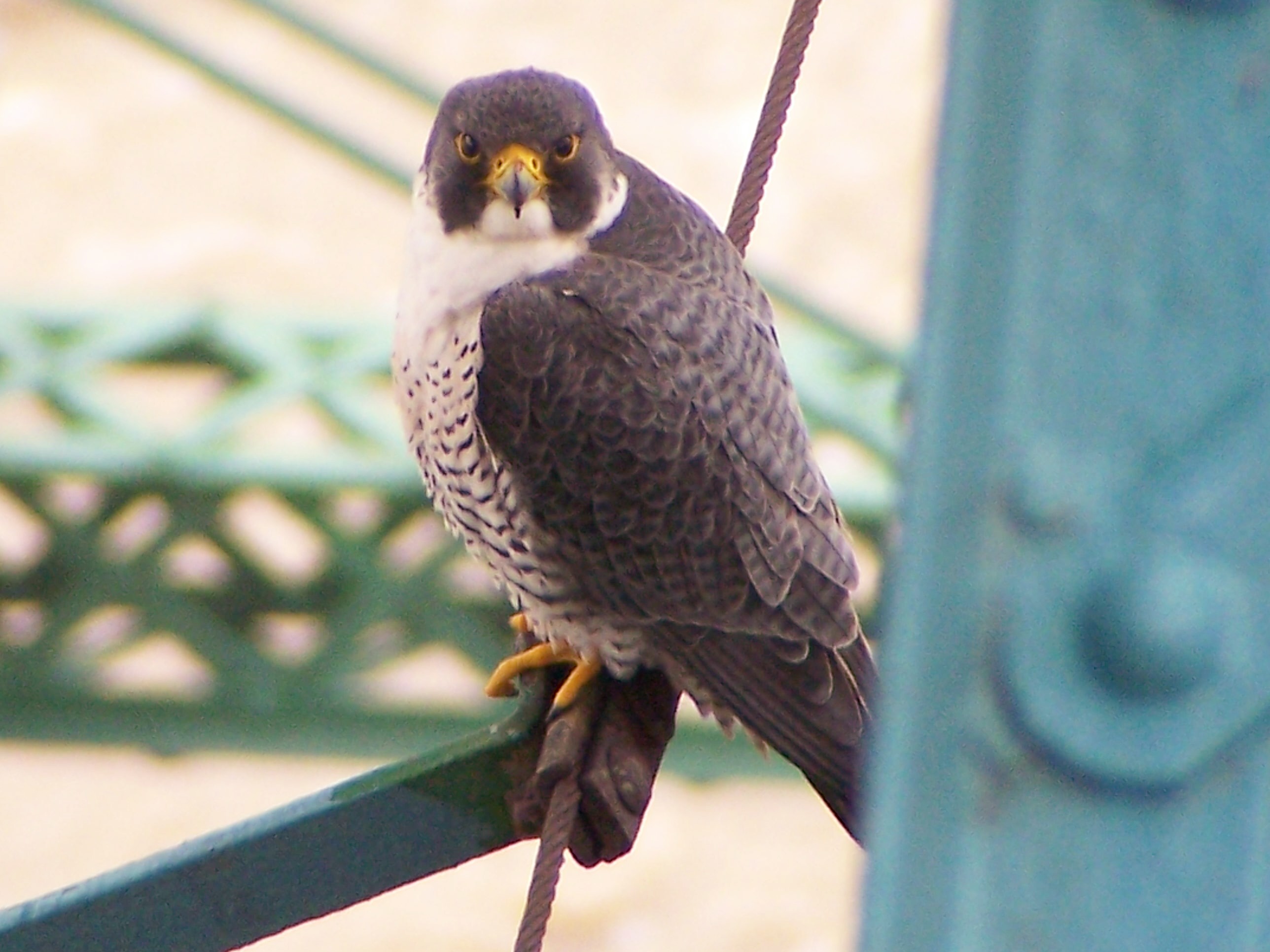 You might think this is Kaver. It certainly looks a lot like him. But it isn't. The fact is, Kaver hasn't been seen since last fall, when he presumably left the area for his regular winter migration.
The tiercel in this picture appears to be Tybropa-Cree, a falcon that was fostered, or hacked by our friends at the Canadian Peregrine Foundation back in 2007. In an interesting coincidence he came from the same hack box in Scarborough, Ontario that Linn, Mariah and Kaver's daughter from 2007, had been staking out last year. Tybropa-Cree– our watchers have nicknamed him "TC"– has a black ID band on his leg, which is how we found out who he was. Watcher Jill Church first photographed him in the town of Greece, east of Rochester, in late February.
Why mention him, you might be asking? Well, the answer is that for the past several days TC has been here in Rochester, hanging around with Mariah and exhibiting all of the typical courtship behaviors we've come to expect from Peregrines. A couple of days ago, Falconcam team member Carol Phillips found him under the pedestrian bridge near the Kodak tower. Here's an album of her pictures. And if you look at the fourth picture in Carol's album, you'll see that TC and Mariah have even been observed mating!
So, what of Kaver? That will have to remain a mystery, unless he should fly back into town. It's not too late for him to do that– he's arrived as late as the 15th in past years, but most recently he's been returning early in the first week of March, so his absence this late in the month is atypical. If he does return, there would almost certainly be a battle between him and TC, with one of them being driven out of the territory, or perhaps even killed. If he doesn't, then Mariah has fulfilled her biological imperative for reproduction by mating with this new tiercel.
Now that they have commenced mating, nest selection should begin soon. Both Mariah and TC have been spending lots of time on the Kodak Tower, despite the absence of a nest box. So far they haven't taken much notice of either of the boxes installed on the Powers or Times Square Buildings. The next couple of weeks should see them choosing a nesting spot. You can keep tabs on the nest box at the Powers Building at the Rochester Falconcam's Multicam page, and we hope to have the cameras at the Times Square box connected soon. Our watchers are keeping their eyes to the skies too, so we'll be sure to keep you updated!
In the meantime, courtesy of Frank at the Canadian Peregrine Foundation, we're happy to bring you some pictures of Tybropa-Cree when he was a youngster growing up in the hack box in Scarborough, Ontario.