New Stuff Coming to Falconcam Stores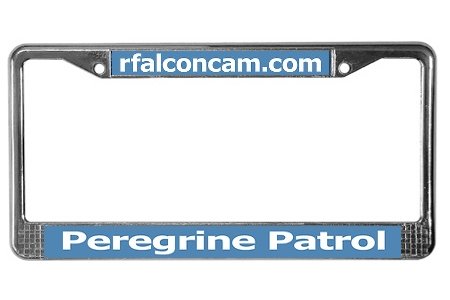 Despite the wonderful summer we've had, the Rochester Falconcam's Merchandizing team has not been idle. Who's the Merchandising team? They're some of the same talented folks who brought you the popular Bricks for Chicks and M&Ms for M&K promotions as well as the custom designs available at The Scrape, RFCasuals and Zazzle stores.
Look for a potpourri of new items like the handsome RFalconcam License Plate Frame (available now at The Scrape) to land in our stores over the next few weeks. Also on offer will be some unique calendars and greeting/holiday cards, as well as other high-quality merchandise you've come to expect from the Rochester Falconcam and our partners at Birdorable
Shopping is easy! Just click the Stores link on the Rochester Falconcam pages. You can also see a rotation of featured items on the left side of the website's pages. When one of them catches your eye, just click on it for more details or to place an order. Remember that all proceeds from our merchandising sales support the ongoing operations here at the Falconcam.
With Mariah apparently relocating to Kodak Park and Archer and Beauty settling in at Times Square, we have the real possibility of multiple nests in Rochester for the first time. What that will mean for us is anyone's guess but your continued support will help to ensure that we can bring the activity at every Rochester nest site to you.