Mariah & Kaver Legacy Holiday Cards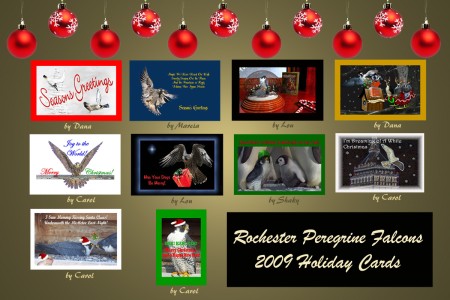 With Fall in full swing the holiday season will be upon us in no time. The Falconcam's merchandising moguls are hard at work creating new items to adorn your homes or to give as gifts to family and friends.
First up is a collection of limited-edition holiday cards. Get into the holiday spirit with these quality 4×6 inch prints set in heavy card stock. Your order includes all ten cards and envelopes to make sending your holiday wishes easy! Plus, all the proceeds will help support the Rochester Falconcam operations.
Just download and print the convenient ORDER FORM to get your Mariah & Kaver Legacy Holiday Cards while supplies last. And look for more 2009 holiday and gift items coming soon from all of us at the Rochester Falconcam!