Quest Likes Shores and Shoals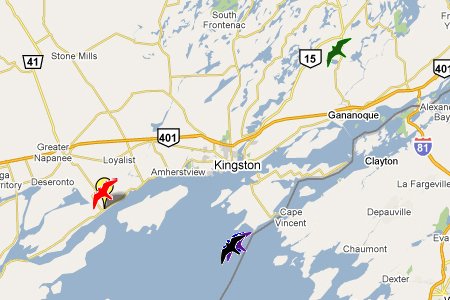 When Quest isn't basking in the luxury of the Lennox Power station it appears she has a penchant for the shoals. Her recent locations have been centered on a spot over Lake Ontario, right on the border line between the US and Canada.
It turns out there's an old lighthouse there. The East Charity Shoal light is closed to the public, a perfect spot for Quest. At just shy of 60 feet, its tower must provide an unparalleled view of the surrounding water for a Peregrine on the prowl. Doubtless it's an ideal hunting perch.
Temperature data have been sparse for Quest recently, but a couple of readings from yesterday indicate that she got a taste of the cold blast that swept in off the lake yesterday. Still, the lowest temperature we recieved was 8.92°C, which is downright toasty compared to the below zero air temperatures recorded in the area. So it looks like Quest should be able to shrug off the winter weather like the seasoned falcon she's become.