Thursday Evening Falcon Watch - Juvie Flying with Beauty and Dot.ca High Above Downtown! - 9/5/13
By Rochester Falcon Watcher Carol P.
I got out a little earlier tonight, arriving at the Hawkeye plant around 6:00 pm.  For about 45 minutes I searched all sides of the building, but had no luck seeing any falcons.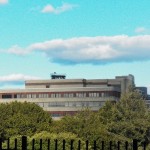 *
*
*
*
*
At 6:45 pm, I decided to check out the High Falls area.  It was pretty quiet on the pedestrian bridge, but I could see an adult Peregrine on the SE corner of the Frontier Communication Tower (FCT) platform.  A local guy, who always stops to chat, joined me for awhile.  He was there to get a picture of the sunset.  There were two girls sitting on the lawn in front of the Observation deck, outside the fence.  They were way too close to the edge. It always makes me very nervous to see anyone that close to the edge.  That area is so unstable.  I was very happy to see them both leave with no mishaps.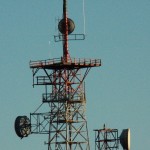 *
*
*
*
*
I wished my friend good luck, hoping he would get the sunset picture he was after and headed over to the City Hall Parking lot.  From there, I could see that it was Dot.ca on the platform.
*
*
*
*
I could hear the cheering coming from Frontier Field.  The Red Wings won their game last night.  I hope they did as well tonight.
Dot.ca took off and headed southeast towards downtown.  I followed.
I arrived on the Broad St Bridge (BSB), and checked out the surrounding buildings.  Nothing.  I heard ee-chupping above and looked up.  Three falcons were flying high above.  There was absolutely no aggression.  One adult flew down and landed on the SE corner of the Chase Tower.  This was the ee-chupper and I do believe it was Beauty.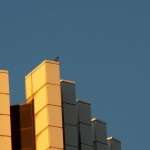 *
*
*
*
*
The other two falcons continued to fly together and apart, together and apart.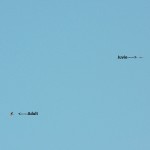 *
*
*
*
*
After checking my pictures,  I am now sure that this was an adult, which I believe was Dot.ca, and a juvie flying together, while Beauty watched from the Chase Tower.  Here is the best pic I have of the juvie.  Too far a distance to ID.
*
*
*
*
I continued to watch them until they flew high behind the Xerox Tower.  Beauty was still on the Chase Tower, so I decided to head over to St Mary's Church where I could get a better view of the south and east side of Xerox.  When I arrived there, Beauty had moved from the Chase Tower to the south side of the Xerox Tower, 4th column in from the SE corner.  She was looking to the east, probably still watching the other two. (7:38 pm)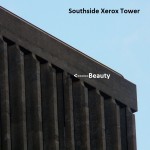 *
*
*
*
*
At 7:40 pm, it was already getting dark, time to head home.  But, of course I had to check out a few things before I ended my Watch.  First I wanted to check the Kodak Tower to make sure the juvies weren't still going there to roost at night.  The lights were on and I could not see any falcons there.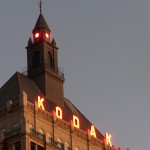 *
*
*
*
*
The sunset was quite beautiful tonight.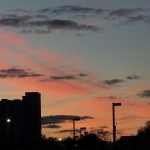 *
*
*
*
*
My last stop before heading home was at the YMCA across the river from Hawkeye.  As daylight faded and night took over, I was able to see a dark shape on the railing across from the nest box.  It was a falcon and I assumed a juvie.  I was able to get a couple pictures and then POOF! she was gone.  I never did see the falcon leave, if she did.
Here is the last picture I took at the end of my Watch.  I had to lighten it quite a bit so that you all could see her.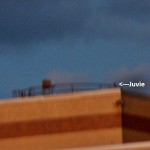 *
*
*
*
*
Now, it was time for me to end my Watch.  Goodnight everyone!