Morning watch 10-23-13
By Rochester Falcon Watcher MAK
Brr- 39 degrees (F) 4 (C) as I left for my watch this morning with overcast skies and a breeze. There's a freeze warning out for tonight
I found Beauty and Dot.Ca (DC) as I checked the north and east sides of HSBC-she was on the northeast corner and he was a couple feet away from her on the north side.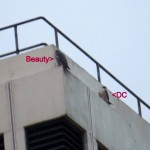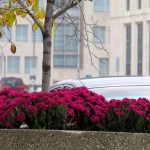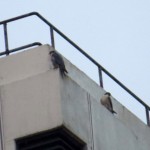 Click on all my pics for the full version
I took a couple pics then headed over to my spot on Chestnut St. by the Hotel Cadillac and just as I pulled up I heard eechupping followed by DC whining. I looked up just in time to see Beauty fly off the northwest corner of HSBC and head west-DC was now on the west end nearer to the northwest corner. So they had switched corners while I was enroute-sneaky little birdies they are!
Beauty did not return and DC left after a minute or so flying north. That would be all I saw of a falcon for the next 2 hours.
I searched downtown and the Brighton site thoroughly but there wasn't a falcon to be found so I took pics of mums that the city has displayed around downtown.
Finally as I pulled up on the Broad St. Bridge from checking on the east side just before the 10 o'clock hour I found DC under the northeast wing of Times Square. I went to the hole straight away to click off a few pics of him before I had to leave for an appointment.
I had to smile as I exited downtown for even tho I didn't see our downtown Rochester pair for long on my watch this morning, I DID see them for which I am blessed! 

One video link below to click and view