Morning watch 1-27-14
By Rochester Falcon Watcher MAK
At 18 degrees (F) -8 (C) it should have felt warmer this morning as I headed out the door at 7:10am but the wind made it feel very bitter cold. We had an Alberta Clipper come through just before I left bringing 3 fast inches of snow making for a slow drive at rush hour and the wind created white out conditions at times. However, the sun shone bright!!!
In my travels to find a falcon downtown I spotted one flying for a brief moment near the Bausch&Lomb building around 7:40am. I continued on and found Beauty 10 minutes later on the Kodak Office (KO) tower south side arch perched on the west side of it. 10 minutes later as I just started to video tape her the Beautyful one flew off heading south right over my head.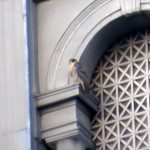 After it was apparent she wasn't coming back I left and did a quick check of downtown-with no sightings I went to the Brighton Site (BS). As I rounded the back of the building and the east side of the building came into view I spotted Dot.Ca fly (DC) off the east extension followed by Pigott who was on a southeast extension window. They flew around to the front of the property out of view and half a minute later Pigott returned and landed on an east extension window. She stayed only a few seconds before she flew over to the southeast extension coming to rest on a window ledge 2 rows down with her back  facing me.
I got situated where I could get a side look at Miss Pigott-she always looks around a lot so I was able to get some shots of this pretty Peregrine! At one point she was getting sleepy but didn't close her eyes for long as the wind would whip up and wake her. It seemed to give her a little attitude judging by the look on her face.
I stayed with Pigott for about 35 minutes and before I left her I took a ride around to see if maybe DC  was somewhere on the building-no such luck. I drove to the back of the east side parking lot and took a few parting shots of Pigott before leaving for downtown.
Arriving in our fair city around 9:30am I searched for falcons at KO but found none so I drove over to the Andrews St. bridge to have a look/see. Scanning from the east side of the river and working my way west-nothing on OCSR or Crossroads north side. Nope, not on Times Square or Mercury. No bumps on the Frontier Communications tower either and then-what? Is that Beauty on the south side arch of KO? Yep it sure was as I pulled over on State St. to check out our little sneak after I had just been there a few minutes ago! lol
I shared space with our downtown matriarch for 15 minutes as she looked around her territory while the wind whistled around her.
DC  was nowhere in sight as I ended my watch about 10am. I said good bye to Beauty and shot her a smile as I drove away!

Click on the links below to check out todays videos