Morning watch 7-24-11
By Rochester falcon watcher MAK
I'd like to dedicate this report to fellow Rochester falcon watcher Larry O'Heron. He has been battling POEMS Syndrome Myeloma and he was discharged from the hospital yesterday to battle this disease on his own at home after receiving treatments. I must say he has had a wonderful attitude and I'm sure it has helped him to turn the corner on the road to recovery. We all send our love Larry and please keep him in your prayers everyone!
On to my report now. We actually got some rain here in Rochester overnight for the first time in about a month and it was a very dark overcast morning. I found Beauty on the southwest corner of the HSBC building over on the east side of town.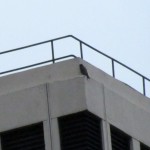 She flew off in the direction of the Times Square building and so I in turn drove over to the Broad St. bridge. Sure enough the Beautyful one was up on the deck of the nestbox.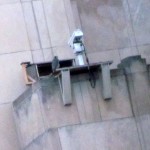 After a few moments I noticed a flurry of movement and then Beauty went in the nestbox.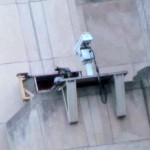 I didn't actually see him but I had a feeling Archer had shown up and they were in the nestbox bowing and strengthening their bond with each other. After checking the archives I see that I was in fact correct with my assumption. He didn't stay long and I totally missed both of them leaving as I was watching a man in a SUV drive up behind me stop then drive past me down to falcon central by the stairs and park. Then he made a u-turn and came back up the bridge very slowly totally checking me out. I got a little uncomfortable at this point when he passed by and made yet another u-turn and pulled up behind me again! He pulled out around me going down to falcon central again, parked his vehicle and got out. He started walking in my direction and when he was almost to me I pulled out and left. You just never know what people are up to these days. Anyway,  I drove around looking for falcons and I soon spotted one on the FCT under the platform on the west side.
As I looked at it I believed it was Beauty because having a view of the right side I could see no white spot on the right wing. However when I zoomed the pic of it when it  flew off  I could see a white spot. I'll let you be the judge!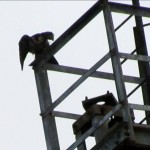 A running start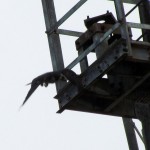 And we have liftoff!
Flying south and out of sight I left Fitzhugh St. near City Hall to try and catch up but to no avail. When I arrived at the Broad St. bridge the parking was filling up quickly because the Jehovahs Witness Convention was at the Blue Cross Arena for the 3rd weekend this month. After searching without finding any falcons I decided to head home. The heat wave has broken as the high temperature will be in the low 80's today instead of the oppressive 90's and high humidity we've had most of this past week. Have a great day everyone and keep your eyes to the sky!