Morning watch 7-26-11
By Rochester falcon watcher MAK
Well I got a big surprise this morning as I approached the Broad St. bridge. They started ripping up and re-paving in front of falcon central yesterday. For the last week they had been paving Broad St. between Exchange St. and Plymouth Ave.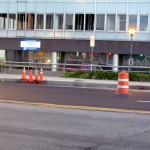 Phillipone building and Aqueduct St. in background
It will surely put a crimp in my watches if they close the bridge down but I will deal with that when and if it happens. So I drove to the east side to look for the Beautyful one and I wasn't disappointed. Still a bit dark out I found her on the southeast corner of the HSBC building. I figure she must fly over there when she wakes up from her spot on Xerox(5th column on the south side) where she sleeps at night to hunt for breakfast first thing in the early morning.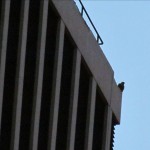 Soon there after she flew off, of course while I wasn't looking so I hadn't a clue as to which way she went. The search was now on. I drove around the city a couple times and finally spotted her on the roof of Xerox perched on the southwest corner.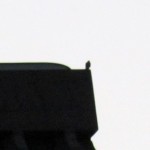 Taken from the Broad St. bridge
I then drove over to Clinton Ave. to be closer to her high above  her world!
Beauty quickly departed and that was the last I saw of her today. As I spent the rest of my watch looking for her I took a couple pics of our resident Great Blue Heron for your viewing pleasure before I departed myself.
Have a great day everyone!