Morning watch 7-28-11
By Rochester falcon watcher MAK
Today when I arrived at the intersection of  Broad and Exchange streets  I was met by road crews in the process of paving .
I didn't know it at the time but Beauty and Archer were high above me in the nestbox doing their bowing and bonding thing. After looking up there and not seeing them I drove over to the east side as has been my routine for the past 1-2 weeks. Naturally I didn't find Beauty on HSBC for she was sneakily hangin' with Archer in the nestbox at the time. I made my way back and drove over to City Hall to find Archer on the top arm west side of the FCT.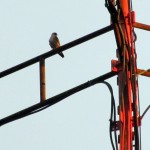 After a few minutes I noticed he kept looking down and I thought he had spotted a meal to catch. He spotted something alright…it was the Beautyful one who had come to join him on her favorite perch under the platform.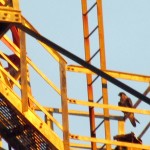 It was overcast for the most part this morning while I was on watch duty but for a minute or so the sun shone on Beauty for my pic and then it was gone! While I was enthralled with her Archer took off from the top arm and I believe he may have gone down into the middle of the tower where I couldn't see him. I had to leave so I didn't have to time to search for him. It's a good day when I can start it with both our resident Rochester Peregrine falcons!
Yesterday Joyce and I went to Toronto to pick up her car that was damaged in a wreck back in June at the Sunlife nest site. We went to Harlequin headquarters to check out our falcon family there. I will be writing a separate report for that  after I weed through all of my pics and get organized. In the meantime here is a pic of Harlie,Quest and the elusive Kendal. 🙂